Dental Graduate Will Pursue Dentistry as Art
By Jane Shaskan
Even before his age was in the double digits, Shawn Zahner wanted to be a dentist. His wish is about to come true: Zahner will graduate from the UConn School of Dental Medicine May 20. He will represent his class as a speaker during the ceremony.
When he was growing up, he says, he thought of dentists as "the artists and carpenters of the mouth." With that in mind, he prepared for dental school with forays into artistic and practical skills, such as sculpting, carpentry, and fieldstone, wood, and metal work.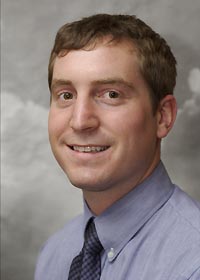 Shawn Zahner views dentists as artists and carpenters of the mouth.

Photo by Peter Morenus
These were not small projects: he has made a mortar-free fieldstone wall, cabinets, metal decorations, foot-tall molar sculptures, and built his own bedroom, including framing, drywall, wiring, and paint. For the past three years, he's used his hands as amateur barber to 10 regular clients. "I believed that the skills I would learn doing all these things would be valuable when applied to dentistry," he says, "and, they are."
After graduating with a bachelor's degree in biology from UConn in 1998, Zahner began dental school and helped his father, Warren Zahner, '76 DMD, in his practice. There he made custom dental trays and bite guards. He recently traveled with his father on a volunteer mission to Ciudad Juaréz, Mexico, to treat the local residents. This was Zahner's fourth medical mission. He has also traveled to Peru and Ecuador, performing extractions, oral hygiene education, and translation. "We were providing people with care they can't normally get. The experiences have been incredible. I've been able to meet and treat poor, brave, and appreciative people, who have made an indelible impression on me," he says. "These trips were not only rewarding, but also an eye-opener to all we take for granted in this country."
When he finds the time, Zahner enjoys photography, fishing, hiking, biking, playing the guitar and the mandolin, and - no surprise - working with wood.
After a one-year residency at Hartford Hospital, Zahner will join his father's practice in Ellington.
---