In order to realize the full benefits of advances in technology, we must seek the efficiencies that come from greater standardization.
The influence of technology at the University of Connecticut has been profound, enhancing everything from the way we conduct university business to the manner in which we deliver academic content. From on-line course registration to smart classrooms to wireless remote network access, advances in technology have favorably impacted virtually every aspect of university life.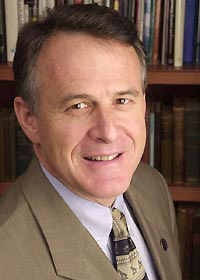 Chancellor John D. Petersen
Yet for all this positive development, we are still a long way from realizing the promise that technology holds for improving our productivity, efficiency, and service.
Through my own observations and in discussions with many of you, I have come to realize that one of the barriers we face to greater productivity is our own electronic diversity. We have a multiplicity of computer-based systems and services at the University, with few campus-wide standards. In this respect, we are not historically unlike most of higher education.
The current trend in higher education, however, is to seek the operational efficiencies that can be derived from the effective use of technology. To be effective, we must move towards greater standardization and, in that respect, there are some obvious steps that we must take.
We have come to view e-mail as an essential format for business correspondence, yet the presence of at least six different e-mail systems on campus limit our capacity to utilize electronic mail to its full potential. Groupware, which integrates e-mail, calendars, address lists, and work scheduling, offers users the ability to readily share information and resources, streamlining communications and increasing efficiency.
At present, groupware is used extensively in some areas of the University, but its impact is hampered by the fact that the programs in use are managed by three completely different systems. We have yet to implement much in the way of paperless business transactions. Most importantly, we do not have an environment that permits us to engage in electronic signatures or that unequivocally identifies users, protecting privacy and ensuring secure operations within the University.
Over the course of the coming year, we will be taking significant steps to resolve these issues. We will soon be rolling out to the main campus a central groupware service that will place all users into a contemporary environment and facilitate effective electronic communications. At the same time we will be improving our student e-mail system.
We will begin the process of building the infrastructure that will permit us to move much of our business processes to the web and away from paper. An integrated calendar system will help us to stay better informed about what is happening throughout the University. We will develop and implement an authentication and authorization system that will permit us, with a simple sign-on, to ensure that users are who they say they are, and will hasten access to a variety of information and services on the network.
Variety may be the spice of life, but in terms of maximizing the use of technology to improve our productivity, efficiency, and service, the variety of computer systems we employ is impeding our progress.
In order to utilize technology to help improve and enhance the work we do, we will need to take a more holistic view. We need to take steps to reduce, if not completely eliminate, the incompatibili ties that exist between various platforms and systems in the University-computing environment, and enhance our capacity to communicate effectively through an integrated network.
Doing this will require us to adopt a set of standards that initially may create unease and discomfort on the part of some users. Fortunately, if there is anything that we have demonstrated as a community during the UConn 2000 years, it is that we are a people who will gladly endure the challenges of change to see potential realized. In fact, I am confident that the steps we take today to improve our electronic systems will have no less significant a positive impact on students, faculty and staff than the new and vastly improved facilities that dominate our physical plant.
Improvements in our electronic environment, like those to our physical environment, will enhance University living and learning, research, scholarship, and the manner in which we conduct University business.
---