Watching Television Could Be Good
for Your Health at Dempsey Hospital


A new system is being installed in the Health Center's John Dempsey Hospital that will offer patients access to interactive educational and informational programming, as well as to 24 commercial television channels.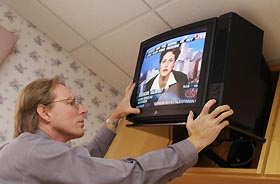 Bill Hengstenberg, Health Center video communications director, adjusts a television recently installed in a patient room at Dempsey Hospital. The new TV system will offer educational programs as well as commercial channels.
Photo by Peter Morenus
The hospital is the only one in Connecticut and one of the first in the nation to have this capability.
The system uses digital file servers and provides on-demand video. It is user-friendly and has a variety of applications, including staff training.
"This is television for the 21st century," says Bill Hengstenberg, director of the Health Center's video communications, the unit that designed and will operate the system.
The system was obtained under a contract with Television Rental Corp. of New York City. The eight-year contract includes 130 patient televisions and all the equipment to operate the system, and is valued at about $400,000 a year. Patients will pay $5 a day for the television they watch.
The educational programming is monitored and tied into computers to generate a database. The system is configured so that if patients don't understand something they see during the program, a notice is sent to staff via computer so they can help.
The new television system will assist the hospital in complying with and even anticipating federal regulations concerning patient education. The Joint Commission on Accreditation of Healthcare Agencies, the federal government's healthcare watchdog, has ever-expanding regulations and requirements about patient education. Hospitals no longer can assert they have informed patients of their rights and the risks associated with a medical procedure. They have to prove it. The system's interactive feature is expected to help.
Heart patients, for instance, will be able to select a program on angioplasty or whatever procedure they face. When the program is over, the computer will inquire in a series of questions with yes or no answers whether the patient understood. It then verifies the answers and maintains a log that satisfies JCAHO demands.
The system will also significantly increase the institution's capabilities for staff training, while saving time and money and improving efficiencies. Interactive closed-system television is already used for annual blood-borne pathogen training. The new system will provide 15 sites throughout the Health Center where staff can log on at their leisure, take the training, and be tested on a variety of topics such as safety, new procedures, or patient welfare.
The system was designed to be expandable: medical school lectures or in-services can be taped and then viewed by students or residents when schedules permit.
"This system is a cutting edge venture," says Hengstenberg. "We expect it to be a major cost savings for the institution."
Pat Keefe
---