Pharmacy Faculty Face the Cameras


Stand by, you're on! That's the cue to which several UConn pharmacists are learning to respond.
Four School of Pharmacy faculty members are turning to television to reach an audience they rarely, if ever, have access to. Working with NBC 30 News, the UConn team is presenting a segment twice a month on the 10 a.m. newscast called "Ask the Pharmacist."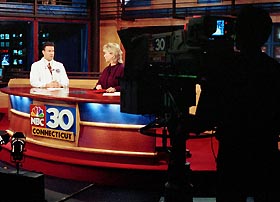 Jon Folstad, assistant clinical professor of pharmacy practice, left, answers viewers' questions during the Ask the Pharmacist, segment of NBC 30 Connecticut News Today with Janet Peckinpaugh
Photo by Peter Morenus
Viewers are encouraged to submit their medication questions through e-mail and members of the pharmacy practice department, Marla Campbell, Jon Folstad, Michael White, and Robert McCarthy, the new department head, take turns responding. The questions are answered live on the air, with the responses also posted to the NBC 30 website.
"This kind of a commitment does two things," says McCarthy. "It provides community service - fulfilling the mission of the University, and it gives our pharmacists an opportunity to share their knowledge and insights from their practice and research with a wider audience within the state."
Making a TV appearance is not new to McCarthy. He had done some media work in Boston during his 12 years at the Massachusetts College of Pharmacy. When he arrived at UConn in August, one of his goals was to encourage his faculty to develop a partnership with local media. With the help of the Office of Communications, a deal was struck with the local NBC affiliate.
Communicating to a television audience has its challenges. Folstad, an assistant professor, has made two appearances so far.
"It's a bit nerve-wracking - sitting up on the anchor desk with three cameras looking at you," he says. "It is not as easy as anchors like Janet Peckinpaugh make it look, but I'm finding my way. The important thing is that we now have an avenue to reach thousands more people than we'd ever see face-to-face and can answer questions from one person that apply to hundreds of others who may be watching the newscast."
Considering that nearly three million prescriptions will be filled in the U.S. this year, it stands to reason that more people than ever before have questions about the medications they are taking.
The group has already handled a range of topics, from questions about generic substitutes to the best time of day for taking specific medications. Beyond general prescription information, each team member has a specialty that is expected to come in handy. Folstad's area of expertise is in internal medicine, Campbell's is ambulatory care, White's is cardiology, and McCarthy's are in pharmacy ethics and policy issues. From time to time they will be asking for assistance from their fellow faculty, whose expertise range from infectious disease to oncology.
McCarthy believes that by increasing their visibility, the "Ask the Pharmacist" segment will enable the viewers to get beyond the stereotypical image of a pharmacist as a pill counter, and realize the depth and breadth of knowledge available at their local pharmacy.
Janice Palmer
---