Ladies and gentlemen of the alumni audience, we take great pleasure in presenting for your approval a new matriculant at the college, the ingratiating rascal whose big feet, cocked ears, and warm hearted puppy body adorn this page - The College Mascot.
With that, the Connecticut Alumnus announced through its front page in January 1935 that Connecticut State College's first husky mascot had arrived at the campus in Storrs.

The story has been told elsewhere in this series [Go to the article] - but in summary: the 1934 kidnapping of Rhode Island's ram mascot aroused interest on campus for selecting a mascot for Connecticut. A student poll came up with the husky - and the

Alumnus, in the same article that told of the puppy's arrival, announced its "Name the Mascot Contest". The winning entry, "Jonathan" was announced, sadly, the day before the puppy was buried in Feburary 1935. It had darted in front of an automobile near the home of its handler in North Windham. The following fall, Jonathan II made his debut.



What has not been fully chronicled for some time is the history of all the husky mascots. There have been eleven, although the latest is named Jonathan XII. There appears to have been a mistaken effort in the early 1990s to account for an uncounted mascot - so Jonathan IX became Jonathan X. Research has not turned up reference to a missing dog - although the mix up appears to stem from Jonathan VI, who died less than two months after his arrival on campus.

Four of the mascots account for more than 50 years of Jonathan's 67 year history at Connecticut. Jonathans II, IV, VII, and VIII each lived to over 14 years of age. Jonathans III and VIII served in relative obscurity as interest in the University mascot seemed to ebb. Jonathan V was retired early because he cowered in the presence of large crowds - a distinct liability at football games and other such events. And as the search for a replacement was underway, the first costumed-mascot appeared in 1964.

Through this photo essay, we present a complete, albeit brief, history of Jonathan the Husky.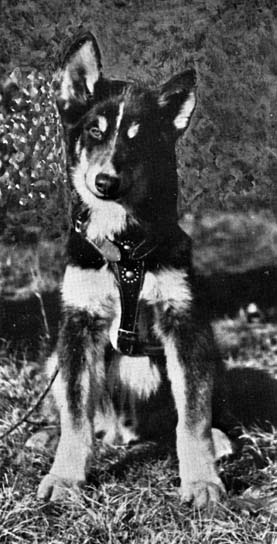 1934-1935: The first husky mascot, a black and white Eskimo husky, was born July 23, 1934 in Huntington, Connecticut. During the American Revolution, George Washington is said to have referred to Connecticut's then-Governor Jonathan Trumbull as "Brother Jonathan" - although it was used to generically identify American colonists before Trumbull's era. It was selected as an apt name for the new Connecticut mascot.

Photo From Connecticut Alumnus. All Others From University Archives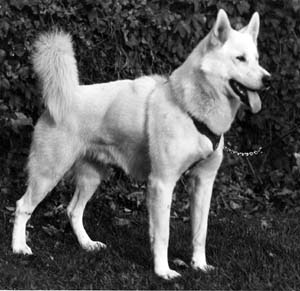 1935-1947: A cousin of Jonathan I, the second Jonathan was an Eskimo Husky, and started the tradition of an all-white dog as mascot. He debuted November 8, 1935 at rally prior to the annual football rivalry against Rhode Island. In September of 1936, Jonathan II chased Brown's bear mascot up a tree, and it took Providence police and fire fighters to retrieve the animal.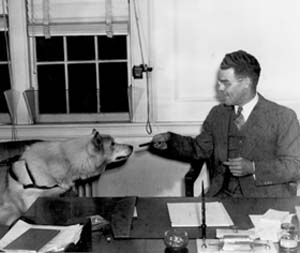 1947-1949: Jonathan III debuted on campus November 8, 1947, again for the annual Connecticut-Rhode Island game. He was stopped at the gate of the Yale Bowl and had to be identified as UConn's mascot by trainer Bob Steiner, then he proceeded to chase the Eli's bulldog around the Yale Bowl. He's seen here with Clarence Webber, director of the Fort Trumbull campus in New London after being dog-napped prior to a football game versus the Storrs Junior Varsity team. (Fort Trumbull won, 6-0)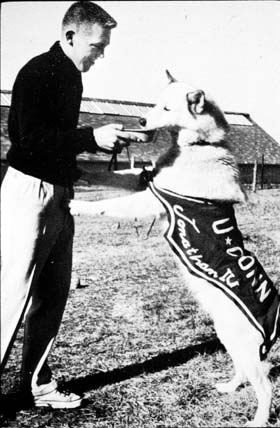 1949-1959: Jonathan IV, with trainer Bob McKay, was a Siberian-Eskimo-Samoyed mix with some greyish markings. He arrived on campus three days before the Yale game in 1949, and grabbed Yale's "Handsome Dan" bulldog by the nose the first time they met. He visited New York City in 1951 when UConn men first played in an NCAA tournament, and he was known to growl at opposing basketball players when ever they scored against Connecticut.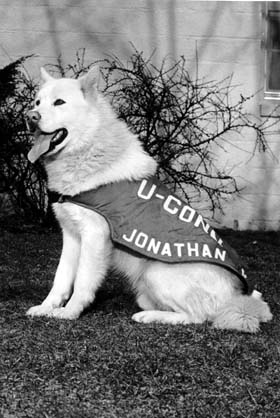 1959-1963: News reports from the period refer to Jonathan V as "shell shocked", unable to tolerate the noise and commotion of fans at football games. He was retired after a few years as mascot.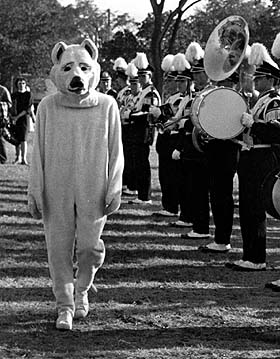 1964 - Present: With the real dog unable to make many appearances, a costumed-mascot first appeared in the 1963-1964 season. But he wasn't called Jonathan at first: The Connecticut Daily Campus picked up on what some students called the faux symbol - "Homer the Husky" was a reference to UConn's still-new president, Homer D. Babbidge Jr.
---