Private fund raising as the means to achieving a margin of excellence is taking on even greater significance during the current economic slowdown.
One of the topics I have addressed frequently in this forum and elsewhere is the importance of private fundraising to the University's success. Events in recent weeks, here at UConn and far beyond, have underscored the role of private support in enhancing our stature as an intellectually exciting, socially responsive institution of higher education.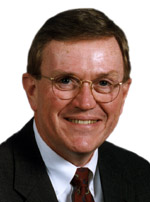 President Philip E. Austin
Moreover, while the future offers few certainties, external funding is likely to help immeasurably, as we work to fulfill the promise of UConn 2000 and the Board of Trustees' commitment to an ongoing, positive transformation. So I turn briefly to the topic of private support once again.
As most Advance readers know, Campaign UConn, our fund-raising drive, was announced May 3 with a goal of raising $300 million by June 30, 2004. As of that date we had raised $150.2 million, or 50 percent of the total. In the next five months, another $16.1 million has been received or pledged. Despite the uncertain economic climate, we have every reason to expect that the $300 million target will be reached and exceeded, perhaps significantly so.
I learned long ago that mentioning large numbers in a quick breath obscures their significance. To create a frame of reference, let me offer some data.
Ten years ago, in fall 1991, the University's endowment stood at approximately $25 million. Endowment earnings plus other, non-endowment gifts utilized by the University that year totaled about $4.5 million.
As of this fall, the endowment has grown more than eight-fold, to approximately $210 million. (The University of Connecticut Foundation's assets, including non-endowment funds, total about $250 million.) Last year the University had available more than $37 million in endowment earnings and other private funds to build its "margin of excellence."
The numerical growth speaks for itself. And in just the past six weeks, we have seen evidence of what Foundation support means to the life of the University: in addition to ongoing student, faculty, and programmatic enhancement, private giving has made possible such special activities as the Human Rights Semester. It also enables us to underwrite the upcoming Metanoia, to support our Music Department's extraordinary concerts in recognition of the events of Sept. 11, and to work cooperatively with the Town of Mansfield to enhance the downtown area - and this is just a partial list.
Even under the most conservative set of assumptions, we anticipate that the endowment will grow even more significantly over the next 10 years, in large measure due to the successful completion of the campaign. Aided significantly by the state's far-sighted commitment to providing a $1 match for every $2 contributed to endowment - which may by 2014 add as much as $155 million to the $32.5 million in matching funds already received - and we can conservatively (probably too conservatively) anticipate an endowment that is between half a billion and a billion dollars by that date.
Training as an economist precludes me from being so foolhardy as to predict rates of return 10 years into the future, but I can say with confidence that funds generated by the endowment for University student, faculty, and programmatic support will be significant - many multiples of what they were in the early 1990s and much larger than what they are today.
In virtually every talk I give about the campaign, I take great pains to say that private giving supplements state support; it does not - and must not - supplant it. Donors provide our public University with a margin of excellence; it is the responsibility of the state and our enrolled students to provide a strong, stable base, in good times as well as bad.
That said, it would be foolish to ignore current realities or to pretend that the difficulties facing our society don't exist. The economy was in a slowdown well before this fall; most states were looking at ways to limit expenditure growth in a wide range of areas, including higher education.
The tragedy of Sept. 11 both exacerbated the downward trend and created a host of competing needs whose impact we will not be able to assess fully for many months at least. As in many times of crisis, higher education has an important role to play; in the current situation our capacity for cutting-edge research and policy analysis is a national resource that should be tapped. Nevertheless, in terms of day-to-day impact, we have reason to anticipate budgetary challenges for some time to come.
Connecticut will not be immune. Indeed, if you have been following the news, you are no doubt aware that the potential deficit for Connecticut's current year budget is projected to grow to $300 million. In response, the Office of Policy and Management, the state's budget office, has already been forced to impose rescissions. For the Storrs-based budget, the University's $193.6 million budget has been reduced by about $3 million to date. The Health Center appropriation of $74.9 million has been reduced by $800,000. At present, we believe we can meet this challenge with prudent and careful management.
We do not yet face the need to cut back on programmatic plans at Storrs, but should the financial situation worsen we may need to revisit that eventuality. At the Health Center, we are continuing with our focus on reallocations and efficiencies, and may need to intensify our efforts as the year progresses.
No one has a crystal ball, but it is safe to say that in this context the significance of private support and federal research funding looms larger even than it was before. Our capacity not just to fulfill our core mission, but to maintain a high level of excellence overall and achieve and sustain distinction in additional targeted areas, will largely be a function of our ability to generate additional private support. Again, this support will not diminish the need for enhanced state funding; it will, in combination with whatever level of funding we attain, provide the resource base we need to fulfill the aspirations set for us by Connecticut's leaders in the mid-1990s and reiterated many times since then.
This is why the success of Campaign UConn is more important than ever - for our students, our faculty, our staff and, indeed, for all the people of the state. And it is why, at a time when there are multiple demands on our time and energy, it is vital that we sustain our efforts to present the story of UConn's transformation to potential friends, here in our state and far beyond.
---