A Message from Chancellor Petersen
Response to September 11 Shows
UConn A Caring Community


The events of Sept. 11 have affected each of us as individuals, citizens of the United States and members of the international community. While all of us have been personally stirred by this tragedy, some members of the UConn community have been profoundly impacted, having lost parents, other family members, or close friends. Our special condolences go out to all of those who have been touched most directly by this act of violence.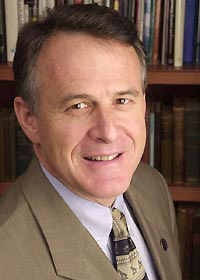 Chancellor John D. Petersen
As we seek to make sense of this terrible tragedy, we can take some measure of comfort knowing that we are members of a university community, united by a shared commitment to understanding, compassion, equality and mutual respect. In the days and weeks since Sept. 11, we have witnessed a remarkable outpouring of support and spirit of unity. Ours
has been a collective response bringing together students,
faculty and staff, and members of the broader University community. We have worked together, and we have grieved together. We have comforted and affirmed one another.
It has been both gratifying and deeply moving to see so many in our community take positive action in the face of this tragedy. At a candlelight vigil thousands of us came together to share our grief and demonstrate our solidarity. In discussions in residence halls and other areas of campus students, faculty and staff provided and received counsel. Members of our Muslim community condemned the incident, while Jewish students reached out in support of Muslims at UConn. Numerous seminars across the University resulted in open and frank conversations in which information was shared, questions were raised, opinions were voiced, and ideas were exchanged.
When the call came for food, water and money to aid those assisting in the relief efforts and those most directly affected by the attack, UConn's response was comprehensive and broad based. Health care professionals from the Health Center traveled to New York to help provide medical care and assistance. Benefit performances of Mozart's Requiem organized by and featuring members of our School of Fine Arts occurred at locations throughout Connecticut, raising over $30,000 for relief efforts. Students from USG, the Greek community, and a large number of clubs and organizations supported food and water drives. A "give-a-meal" program was widely supported by UConn students and raised more than $7,000.
The University's professional associations were also moved to action. Our AAUP chapter, for example, donated $5,000 to the Emergency Disaster Relief Fund on behalf of the faculty and other research professionals.
This is a tragedy that will have a lasting effect on all of us. As a university, our activities, discussions and programs must continue, as we seek to better understand the world in which we now live. To that end, I have convened a group, broadly representative of the University community, to help plan and coordinate a series of events that will begin immediately and continue through the semester. This group will use the "UConn Remembers" website, the Advance and The Daily Campus, posters in the residence halls and buses, and other modes of communication to inform everyone about these upcoming events.
We encourage your input as we develop future programs and events and invite you to contact the Dean of Students hotline at (860) 486-3426 with your thoughts and suggestions. We also urge you to look for announcements of future activities and to remain active in your response to the events of Sept. 11 by participating in forthcoming programs.
Last spring we designated Fall 2001 as the Human Rights Semester and dedicated the term to the study of human rights. The commitment we made at that time has taken on special significance in light of the events that have transpired over the last few weeks. Now, more than ever, it is imperative that we come together to assert our commitment to the rights of all people. I extend my thanks to everyone who has helped remind us that UConn is a community of many races, ethnicities, and beliefs - a community, above all, of caring, respect and compassion.
---