A Message from President Austin
University Taking Steps to
Ensure Safe Campus Climate


Following up on earlier communications, I want to let you know about steps we are taking in two closely related areas: assuring a welcoming, safe campus climate for all members of our community; and enlarging our efforts to promote a better understanding of the impact and implications of the events of Sept. 11.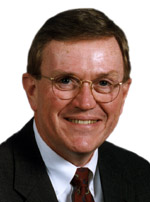 President Philip E. Austin
I cannot reiterate forcefully enough that there is no place for bigotry at this University, now or ever. Every member of the UConn community, including but by no means limited to the University Police, has an obligation to respond as appropriate to acts that create a climate of apprehension or anxiety.
It is essential that the University receive full information about incidents on campus that violate individuals' or groups' sense of safety. Without that information not only are we unable to take prompt action, but the potential for unsubstantiated rumors to create unwarranted fear is significant. I urge anyone who is him- or herself the victim of such acts, or who witnesses them, to communicate immediately with the Office of the Dean of Students at (860) 486-3428 and the University Police at (860) 486-4800 or, in an emergency situation, 911.
All allegations will be investigated and dealt with in a manner honoring the confidentiality of those making the report, but that brings to bear on perpetrators the full force of law and the University's Student Code of Conduct. Our cultural centers also have an important role to play in creating safe havens and responding to concerns, and we are working to strengthen their capacity in this area.
Beyond that basic step, the University is engaged in a wide range of activities to respond to safety concerns expressed by individuals and groups on campus. Immediately following the Sept. 11 attack, the International Student Center reached out to international and particularly Muslim students on campus; the Campus Activities staff and the Dean of Students Office have been in close contact with the Muslim Students Association to assure that their needs are addressed; and University Police have provided a security presence as needed. I met last week with several Muslim student leaders to solicit suggestions for further actions and we are looking closely at their ideas.
I should also say that we are working closely through the Dean of Students Office to deal with registration, fee, housing and other matters that affect UConn students who have been (or may be) called to active duty in the National Guard or Reserves. We will work to assure that no student's standing at the University will be adversely affected by reason of military service.
Concurrent with our efforts to assure campus safety, we are endeavoring to use the resources of the University to generate a better understanding of the fundamental public policy issues that are being debated here and across the nation. UConn is a large, diverse institution and we expect - indeed, we welcome - a broad range of views. But it is important that all of us, students, faculty and staff alike, base our opinions on a solid grounding in history and culture. To that end we sponsored a colloquium eight days after the Sept. 11 attack, at which several faculty members presented a range of perspectives, and their views were followed by a lively interchange with students and others.
Chancellor John Petersen has named a campus-wide committee to develop additional academic activities and programs during and beyond the current semester. Many of our pre-planned activities in connection with the Human Rights semester will be incorporating issues related to the current crisis into their agenda.
Several other proposals have been made in connection with the events, including a formal structure for a campus-wide dialogue about the full range of issues stemming from or underlying the events of Sept. 11. The University has an institution called a "Metanoia," defined in the Senate Bylaws as "a day devoted to intensive discussion of topics of great concern to the University community," and convened by the "TAFS" (Trustee-Faculty-Administration- Student) Committee, consisting of leaders of the governance body of each constituency.
To respond to the request for a day of discussion, I have convened a meeting of TAFS. If a Metanoia is called, an ad hoc committee of faculty and students will be convened to oversee planning and I expect the Metanoia itself will take place later this month.
These are challenging times for the nation and for people of good will everywhere. Like other colleges and institutions of higher education, we are trying as best we can to meet all legitimate concerns in a manner consistent with our role as an institution of higher education. As more information becomes available, we will communicate it regularly through e-mail and other means. And as we proceed to develop and implement our plans, I invite all members of the community to participate in an ongoing discussion about how our university can best meet its objective of creating a safe, intellectually and culturally diverse environment for our members.
---