Book Tells History of UConn in Pictures


A photographic history of UConn has just been released, the first published history of the University since its 50th anniversary in 1931.
The book was compiled and written by Mark J. Roy, a media specialist with University Communications. It grew out a series of articles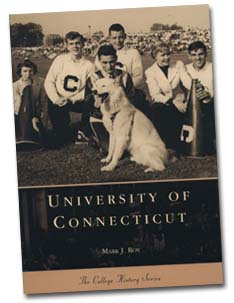 Related Links:


on the University's history - known as "A Piece of UConn History" - that Roy began writing for the Advance in 1997.

"Over the past four years, a number of people have asked me if the articles in the Advance series might be published in book form," says Roy, "and that got me thinking about a publication of some kind.

"The resulting book is largely photographs, but I have included as much information as possible in the captions, to tell the unfolding story of UConn. There is also an introduction, and a summary at the beginning of each of the nine chapters, which put the photographs in context," he adds.

"It is not a definitive history, but it gives a sense of how the University has gone through many transformations, from an agricultural school to a land-grant college to a research university.

Roy's book covers a 120-year history that began in 1881 when the University was founded as the Storrs Agricultural School. There are a number of rare photographs from its earliest years, including the oldest known photo in the University Archives of the original college building, Old Whitney Hall. Old Whitney had been a home for orphans of Connecticut Civil War soldiers in the 1860s and 1870s. The photograph is believed to be from the early 1880s, shortly after the founding of the agricultural school.

The book includes more than 200 photographs selected from thousands of images in the University Archives in the Thomas J. Dodd Research Center. It traces the history of UConn up to the present, with recent photographs showing the latest transformation of the University through the UConn 2000 program.

The history of UConn is published by Arcadia Publishing, as part of its College Series. Arcadia is the leading publisher of regional and local history in the United States, and has a mission to make history accessible and meaningful.

The College Series: University of Connecticut (paperback, $19.99) is now available at the UConn Co-op and Waldenbooks in Eastbrook Mall. There will be a book-signing at the Co-op on Wednesday, Sept. 12, at 3:30 p.m.
---