Health Center's Signature Programs
Integrate Research, Clinical Expertise


It's been said that one may know a person by the company he keeps. Organizationally speaking, however, one may know an institution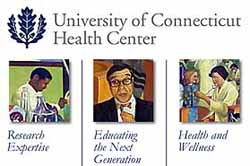 by its signature programs.
The Health Center's signature programs in Genetics/Immunology and Cancer, Brain and Human Behavior, Bone Biology and Musculoskeletal Disease, and Connecticut Health cut right to the heart of the institution.
"Our signature programs' ultimate purpose," says Peter J. Deckers, interim chancellor and dean of the School of Medicine, "is to build a stronger Health Center by closely linking areas of research excellence with clinical excellence."
The programs that have become signature programs will come as no surprise: They are closely related to areas of long-standing Health Center clinical and research expertise. When the 2000 Strategic Plan affirmed one of the Health Center's strategic initiatives to "develop signature programs that integrate research and clinical care," it was merely codifying and reinforcing something that had been occurring informally for a generation.
Health Center researchers and clinicians already had established reputations in cancer - especially pediatric cancer and bone marrow transplantation - neurology, psychiatry, alcohol and drug abuse research and treatment, osteoporosis, dentistry, connective tissue diseases like rheumatology and arthritis, geriatrics and the various and wide ranging initiatives of community medicine and health care.
The original strategic plan looked at those existing programs and, pointing the way to the future, promoted the concept of concentrating resources and specializing in a few things the Health Center already did well. Although the plan didn't name them as such, the signature programs concept was clear and the plan allocated money to recruit new research faculty to help bring the concept to reality.
A number of years later, the new strategic plan takes the original programs, joins them with the research and clinical efforts of the recently recruited faculty - many of them in adjoining labs and offices in the new Academic Research Building - and commands them to go forth to educate, do more research and strengthen clinical programs.
"By linking basic science research to important medical conditions, we should improve management and outcomes for patients," says Steven Strongwater, chief operating officer of John Dempsey Hospital and the man charged by Deckers with program development and clinical implementation. "Signature programs are strategic decisions to enable the Health Center to take advantage of academic commitments to improve patient care and outcomes," he says. "We are committed to discovery - it is what academicians do."
Each signature program consists of co-leaders and an administrative coordinator. The cancer program is headed by Giles Whalen and Pramod Srivastava, with administration coordinated by Christine Kaminski. The musculoskeletal program is headed by Lawrence Raisz and Jon Goldberg; administration support is by Anne Horbatuck. The Connecticut Health initiative is headed by Robert Trestman and Howard Bailit, with administration by Charles Huntington. The Brain and Human Behavior initiative is headed by Richard Simon. Because of the breadth of the program, it is divided into two sub-groups: mental health and neuro-vascular. Leighton Huey and Andrew Winokur lead the mental health component; Leslie Wolfson and Richard Mains lead the neuro-vascular section; administrati on is by Shirley Crall.
The plan doesn't just announce these groups, however. It charges them with action and gives them a deadline. Each group is required to:
develop a specific set of steps to move the program forward and improve its focus;


tighten the linkage between academic priorities and clinical programs;


organize task forces and devise methods to ensure the programs continue to evolve;


develop a business plan that addresses marketing and clinical program growth, as well as financial projections.


Preliminary reports were due in mid-September. Final action plans are due in mid-October and will be presented by senior management to the Health Affairs Committee.
Strongwater says formalizing the signature programs was an element in a larger design. "Signature programs are part of a plan to stabilize the Health Center," he says. "Stabilization means we will be able to concentrate on procuring new grants; attracting new patients, who will bring more revenues to the Health Center; and recruiting and retaining both good clinicians and scientists."
It appears to be working. Richard Mains, a new faculty member recruited this year from Johns Hopkins, is professor and head of the Department of Neuroscience and one of the co-leaders of the neuro-vascular section, Brain and Human Behavior initiative. Mains calls the signature programs "a smart way to pick and choose what areas you want to pursue.
"The signature programs are a powerful way for a small institution to marshal its resources to investigate new areas of research and really attract people from the outside," he says. "They are a way to focus interest on a few areas, and bring together individuals interested in an aspect of that area. They allow for synergy of those various interests."
The signature programs have their antecedents in the past - proven areas of research and clinical expertise at the Health Center - but they are very much future oriented and are based on the rationalization of the institution's long term prospects.
"The signature programs are about focus," says Deckers. "We cannot be all things to all people, but we expect the successes of the signature programs to shine some much-deserved light on our clinical enterprise as well as our entire institution."
In that light, the future looks secure.
Patrick Keefe
The 2000 Strategic Plan for the UConn Health Center calls for the establishment of a number of signature programs to better integrate research efforts with clinical initiatives. During the next four weeks, the Advance will look at each of these programs. Next week: the Brain and Human Behavior.
---