Ceremonial Symbols of Tradition
Introduced During Babbidge Years



s the Commencement procession advanced into Memorial Stadium on June 14, 1963, it did so with an added ceremonial component.
At the head of the procession, Paul N. Taylor, secretary of the University Senate, carried a wooden object - approximately three feet in length and beautifully hand-carved - which has been used at all academic ceremonies since that time.
That object is the University mace.
In medieval times, the mace was a weapon for warfare, but now it is a wooden staff carried by or in front of a magistrate or other dignitary as a sign of authority.
"The new president wanted to add ritualistic pomp to the graduation ceremony," says Nathan Knobler, emeritus professor of art who designed the University mace. Knobler, a nine-year veteran of the art department, was asked to help with the design just months after he became department head in February 1962.
"President Babbidge was very interested in history and he was looking for something that would make a connection between the past and the present," says Knobler, who has been teaching at the University of the Arts in Philadelphia since he retired from UConn in 1977.
Knobler prepared a design on paper that was given to a wood carver in northwestern Connecticut. In a few months, the mace was completed.
The head of the mace has the University's former seal on both its faces, surrounded by mountain laurel leaves and flowers. On the neck are carved nutmegs. And embedded in the mace is a penny dated 1881 - the year the University was founded as Storrs Agricultural School.
The mace was first carried at Babbidge's inauguration on October 20, 1962, when it was handed to Babbidge by trustee chairman John J. Budds to mark the ceremonial transfer of authority and responsibility.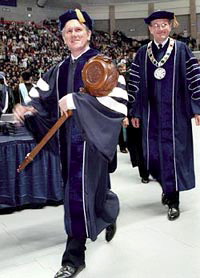 Keith Barker, co-chair of the Commencement Committee, bears the University mace, at the head of the Commencement 1997 processional. President Philip E. Austin wears the silver collar and medallion.
Photo by Peter Morenus
It was the first of several symbols of authority and academia to be added to academic ceremonies during the Babbidge years.
The silver collar and medallion, worn by the president and a symbol of that office, was first worn by Babbidge in 1964 for the silver anniversary of the University (Connecticut State College became the University of Connecticut in 1939); each link represents a school or college.
The baton, carried by the University marshal as a symbol of the marshal's authority, was first carried at Commencement in 1968.
Mark J. Roy
This year's Commencement will be featured in the June 12 issue.
---