As a University, we are committed to the fight against sweatshop labor and to maintaining our role as an effective agent of change.
About two weeks ago, I presented an opinion piece in The Hartford Courant that dealt with a topic that needs to concern us all: the working conditions under which goods that bear the UConn logo or insignia are produced.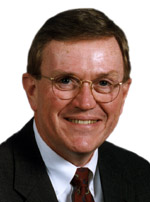 President Philip Austin
Across the nation, and particularly at a number of college campuses, individuals and groups are engaged in efforts to address what is colloquially but not wholly inaccurately termed the sweatshop labor issue. Their goal is to assure that apparel and other items that Americans buy are produced in humane conditions and to establish reporting and monitoring mechanisms that let institutions and consumers alike make informed decisions about whom to contract with and what to buy. This is an objective I wholeheartedly endorse. I would be surprised if there is anyone in the UConn community who does not share that view.
The complexity, as I said in the Courant piece and on other occasions, lies in the details. Through our licensing agent, the Collegiate Licensing Company, the University of Connecticut contracts with hundreds of companies for the production of goods that bear our logo. Neither we nor any other single university has the resources to monitor all those plants. To have a positive impact we need to work collaboratively with the CLC itself, with other schools, and possibly non-university groups to create fair, realistic standards and to assure that those standards are met.
Special Task Force
Last September I appointed a special Task Force on College Licensing Issues to investigate all aspects of this issue, including options for collaboration. Chaired by Law School Associate Dean Jeremy Paul, Task Force members included Don Branson and Catherine Harnois, two students active on this issue; Judith Meagher, professor and former associate dean of education; Paul Shapiro, assistant attorney general; William Alpert, an associate professor of economics who is an authority on labor market issues; and Timothy Tolokan of the Division of Athletics.
As a group, the Task Force embodied a commitment to fair working conditions and development of a workable University response to legitimate concerns. Over the next six months members reviewed our existing contractual agreements, consulted with other universities, held a public hearing, and met with representatives of the two national organizations whose goals are to promote workplace monitoring systems.
In January, at my request, the Task Force examined a code proposed by the Collegiate Licensing Company that would apply to all workplaces with whom CLC contracts to produce goods with the UConn logo. That code sets basic standards regarding wages, hours, overtime compensation, and health and safety, and includes prohibitions against forced labor, child labor, harassment and abuse. Most important, it requires that licensees disclose to us and other member institutions the location of each factory.
Recognizing that the code sets a floor rather than a ceiling, the Task Force unanimously recommended that we join other schools in signing on, with a rider calling for special protection for women workers. I agreed, and in February I informed the CLC that UConn will adopt the CLC Labor Code Standards and, effective May 1, will require that all our licensees disclose factory locations. We are now in the process of implementing the disclosure requirement. This is a good start.
On March 31, the task force presented an exceptionally well-crafted final report, which included four major recommendations. The first was that I designate an individual to assume ongoing responsibili ty over this issue; I accepted this proposal immediately and designated Karla Fox, associate vice chancellor for university affairs, to assume this function. The second was that the University provide opportunities through the curriculum and/or through special events for students to learn more about the issue; I have passed this on to the chancellor and provost for university affairs with my strong support and a commitment that we will try to provide some resources to bring speakers and others to Storrs. A third proposal was that UConn develop a code of conduct for licensees, stronger than the CLC code. I anticipate that we will implement this recommendation, though I need to be sure that whatever we do is practical as well as equitable.
Monitoring Organizations
The task force's remaining recommendation deals with our affiliation with national monitoring organizations. Two options are available. One, the Fair Labor Association, was established about two years ago at the impetus of the Clinton Administration. About 130 universities and several human rights organizations are members of the FLA. There is also major participation by apparel manufacturers, six of whom sit on the FLA's 13-member board. Though supportive of the FLA's proclaimed goals, the task force reluctantly concluded that flaws in the FLA's structure are such that UConn membership would not be warranted at this point.
The second option is a new group, the Worker Rights Consortium. Created in the past few months by student groups and social advocacy organizations, the WRC is at a very early stage of development and held an organizational conference at New York University just last week. Although its university membership list is shorter than the FLA's, in recent weeks such major schools as the University of Michigan, the University of Wisconsin, Indiana University and Georgetown University have signed on for a one-year period while they assess whether the WRC can develop a workable structure.
The task force looked favorably on the WRC's objectives, as it does on those of the FLA. It recommended that the University not join at this point but that we make a small financial contribution to both the WRC and the FLA as a signal of our support for their objectives. As the WRC advances and, perhaps, as the FLA evolves to address concerns about its independence, the task force suggested that we consider affiliation with either or both groups.
In the days since I received the task force report I have met with students in an open forum and consulted with faculty. In addition, I have heard from employee associations and others within the University and across the state. We have spoken to our counterparts at other schools to assess the WRC's status following its organizational meeting. While not determinative, the intensity of support for WRC membership on the part of students who have been involved in this issue is certainly a factor in my thinking.
Weighing all factors, I have decided that the University of Connecticut will join the WRC for a one-year period, during which we will evaluate the organization's capacity to achieve its objectives. We will look closely at the how the WRC's structure evolves and seek to assure that the interests of a major university like UConn are represented on its 12-member board. We will also assess the efficacy of the organization's approach to factory monitoring, its administrative operations, and the fairness of its reporting procedures. If the WRC clearly establishes itself as an objective and effective instrument for change, as I hope it will, we will extend our membership next year.
I have also decided to accept the task force's majority recommendation that the University make a nominal financial contribution to the Fair Labor Association. It is important that UConn demonstrate its support for the FLA's proclaimed goals and indicate our eagerness to collaborate with the many schools who are working within the FLA to improve its structure and methodologies and to increase higher education's presence on the FLA's governing board. While I share concerns of students and others that a 13-member FLA board that includes six apparel industry representatives casts doubt on the organization's credibility, I am convinced that an effective monitoring system must include some industry participation. Imperfect though it is, the FLA - like the WRC - holds the potential to contribute significantly to improvement in workplace conditions; in fact, the Chronicle of Higher Education's coverage of the WRC's organizational meeting reported that even WRC leaders are not opposed to universities affiliating with both groups. I think it is important to provide a clear signal that we believe the FLA might fulfill that role if certain key concerns are met.
A Matter of Commitment
While our decisions on organizational affiliation are subject to reassessment, I cannot state strongly enough that the University's commitment to the fight against sweatshop labor is not. It is encouraging to see hundreds of schools, labor unions, and other groups involved in this effort, including some of our own students. In the coming months we will continue to welcome advice from all members of the community as we look at how the two national organizations evolve, and as we work to maintain UConn's role as an effective force for change.
---