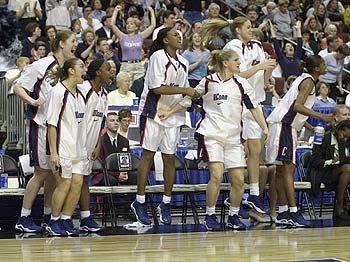 Simply the Best!
UConn Women are NCAA Champions



he noise started shortly before 9 p.m. Sunday night in the Harry A. Gampel Pavilion. At 11:30 p.m., it continued, a long, loud howl that never abated. Through television commercials, through interviews, through the final moments of the UConn women's crushing 71-52 defeat of the Tennessee Lady Volunteers in the NCAA final. It paused only momentarily, when the band playing Queen's "We Are The Champions" stopped, inexplicably, 30 seconds into the tune. The noise rose once more when the song again boomed out of the speakers. These early April celebrations at UConn are becoming a habit.
This year, the celebration, which steamrollered into Monday morning, as DJ Doug and the Posse Patrol blasted hip-hop music from the Gampel Plaza in front of Jonathan's, was for the Husky women, who were feted again Monday afternoon in Storrs. Next year, all UConn's starters, and three of their key reserves, return, along with one of the best freshmen classes in the nation. The Husky men return a solid core, and also have one of the best recruiting classes in the nation. Book the Pavilion - there could be two parties next year.
Sunday's event in Storrs mimicked the 1999 broadcast of the men's victory over Duke. Hours before the doors opened, people lined up outside Gampel Pavilion. Thousands of fans packed the arena to watch the game on three huge movie screens, and every camera shot of a UConn player, cheerleader or fan attending the game in Philadelphia brought roars. The loudest cheer was a toss up, although UConn coach Geno Auriemma's mother brought down the house.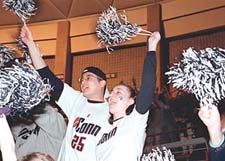 Joslyn Teubner, 8th semester theatre studies major, right, and Mike Hansen, UConn Alum, cheer the UConn Women's Basketball team Sunday night at Gampel Pavilion. They were joined by more than 2,000 Husky fans who watched the game in the Storrs facility on three big television screens and saw the Huskies win the NCAA Women's Basketball Championship.
Photo by Shannon McAvoy
The victory makes UConn one of only three universities to boast NCAA championships in both men's and women's basketball, joining North Carolina and Stanford.
The storybook ending also gave UConn's women a 6-5 lead in their series with Tennessee, and it burst what had been an amazingly close set of matches. Going into Sunday night, the total score for the 10 games was 737-734, UConn. But it's close no more.
UConn 71, Tennessee 52. The orange has been juiced.
Richard Veilleux
---