Everett Carll Ladd Jr., a distinguished social scientist and nationally renowned polling expert, died Wednesday morning at Windham Community Memorial Hospital after a brief illness. He was 62.
Ladd, a professor of political science at UConn since 1964, recently retired as director of the Institute for Social Inquiry and executive director of the Roper Center. One of the University's most prolific writers, Ladd wrote and edited more than 20 books, including a textbook, The American Polity, now in its sixth edition. Many of his articles appeared in the nation's leading newspapers, including The Wall Street Journal, The New York Times, the Chronicle for Higher Education, and many others. He commented frequently on politics and was widely quoted in the media.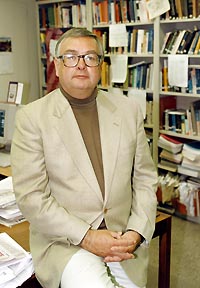 Everett C. Ladd, Jr., former professor and executive director of the Roper Center, died December 8.
Photo by Peter Morenus
"This is a loss not only to me personally and to the University of Connecticut but to the body politic. Everett's contributions to the public dialogue on issues of national policy, through the many books and dozens of commentary pieces he wrote, were often intriguing and always informative," President Philip E. Austin said Wednesday. "His ability to analyze poll results, in all their intricacies, was beyond reproach. I will miss his friendship, and the community will be lessened by the loss of his scholarship and wit."
Robert Smith, vice provost for research and dean of the graduate school, added, "In the social sciences and, especially, political science, Everett Ladd is looked upon as somewhat of a legend. The Roper Center is truly one of our centers of excellence and the University has Everett Ladd to thank for his role in guiding its development for more than two decades."
Under Ladd's leadership, the Roper Center, founded in 1946 by Elmo Roper, has become the premier archive of polling data in the world, with data from more than 14,000 major national and international surveys, and the first-ever online information retrieval system for public opinion data from the United States and abroad. He also expanded the Roper Center's mission with an ongoing publications program, including the bimonthly journal, Public Perspective, the biennial election analyses America at the Polls, and a series of issue-specific monographs.
Burns Roper, son of the founder of the Roper Center and long-time chair of its board, said "the remarkable growth of the center and the recognition it has achieved during the last 20 years is due almost entirely to Everett and the staff he assembled."
Along with his positions at UConn and the Roper Center, Ladd served as adjunct scholar of the American Enterprise Institute for Public Policy Research in Washington, D.C.
An internationally recognized authority on American public opinion and the role of survey research in democracy, he has been a Fellow of the Ford, Guggenheim, and Rockefeller Foundations, the Center for International Studies at Harvard, the Hoover Institution at Stanford, and the Center for Advanced Study in the Behavioral Sciences in Palo Alto, Calif.
From 1987 through 1995, he was a columnist for The Christian Science Monitor. He also served for a decade as senior editor of Public Opinion magazine, and then for six years as "Opinion Pulse" editor for The American Enterprise magazine. Collaborator and co-author, Karlyn Bowman, said Ladd "was that rare person who could combine scholarly excellence with perceptive insights into the realities of the public policy world. He willingly shared that knowledge with decision makers, students and fellow researchers."
Ladd's recent work went beyond his traditional interests in American political thought, electoral politics and public opinion, with publications such as The Ladd Report: The Surprising News of an Explosion of Voluntary Groups, Activities, and Charitable Donations that is Transforming Our Towns and Cities.
Ladd leaves his wife, Cynthia Louise (Northway) Ladd; four children and their spouses; a sister and brother-in-law; and five grandchildren.
Funeral services will be private, and there will be no calling hours. In lieu of flowers, donations may be made to the Everett Carll Ladd Fellowship in the Political Science Department. A public memorial service will be scheduled at a later date.
Richard Veilleux
---