I am delighted to welcome everyone back for the academic year and to extend a special greeting to the new faculty and staff joining us for the first time. Our university continues on its stronger upward trajectory, and I have every reason to expect the pace of positive change to continue in 1999-2000. Last week's U.S. News & World Report rankings - an imperfect but nonetheless broadly used indicator of educational quality - placed us as the top-ranked public university in New England, confirming what we already knew: UConn is moving rapidly to the front ranks of American public higher education.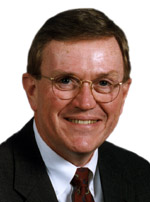 President Philip E. Austin
The University's progress will not come without difficulties, and this has been a challenging summer. One of the central elements of our strategic plan is an extension of public-private partnerships, an area in which we are moving ahead on many fronts. Our proposed collaboration with Pfizer to build a $35 million facility for the Center for Excellence in Animal Vaccine Research would have been a major step forward, and its termination was a deep disappointmen t to me and to the many people on the faculty and in the community who recognized that project's great potential.
In itself, the loss of the Pfizer collaboration is a misfortune, not a calamity; there are other ways to meet our objectives, and there will be other partnerships. But it highlights a more significant problem with which we need to come to grips - the ability of a well organized minority to utilize legal and administrativ e procedures to obstruct projects important to the University's and the state's future. While we are always eager to respond to legitimate concerns and work constructively with all members of the community, we cannot allow narrow interests to dictate our course. And we need to assure that debates about our plans are based on fact.
Financial issues have presented another area of challenge. Programs based at Storrs and the regional campuses enter the new academic year on a strong footing. The $514 million operating budget is 8 percent higher than the budget in place two years ago. Private fund raising has increased by 25 percent. Grant revenues have risen from $61 million in fiscal year 1998 to nearly $71 million in fiscal year 1999, a tribute to the research capacity and entrepreneurial skills of faculty and staff.
Nevertheless, it became apparent during the spring and summer that financial commitments had been made that would result in a budget shortfall of $4 million. Although this over-allocation took place outside the normal budget process, it is also true that the existing organizational structure failed to identify the developing problem in a timely fashion. Fred Maryanski, interim chancellor, recently issued a memorandum explaining how the situation came about and how it is being addressed in the short and long term, including a temporary delay in hiring and a readjustment of base budgets in accordance with strategic priorities.
Within the next several weeks I will present a more detailed assessment of the budget issue, outlining the fundamental changes we are undertaking to assure that current problems do not recur. Although the existing organizational structure served the University well in the mid-1990s, it is now time to move toward a financial and management system that is more focused, coordinated and supportive of our academic mission. We will also seek to better link the budget process at the main campus and the University Health Center.
Significant as they are, these issues should not obscure the incredibly positive things that are happening at UConn. On Saturday I joined more than 100 faculty and staff at our Convocation for new students - if possible, an even more impressive event than last year's. The incoming freshman class is bright, eager, diverse, and continues a trend toward stronger undergraduate talent. Not only are our applications growing in number and improving in strength, but the proportion of accepted students who choose to attend is increasing markedly. What this suggests is that UConn is rapidly moving from the "safe school" status it traditionally held for Connecticut students to become the university of choice for the state's most promising young scholars.
The summer has been active in other respects as well. We dedicated a new research vessel at Avery Point, watched construction move along expeditiously at a dozen sites in line with our campus master plan, and prepared for the next phase of UConn 2000. Our new Visitors Center, made possible by the gift of Philip and Christine Lodewick, will begin construction this fall and will open next spring. We will soon begin work on collaborations with private sector partners to build additional student housing and a much needed hotel. The search for a new chancellor is progressing well, and I want to express my deep appreciation to Fred Maryanski for his dedicated service as interim chancellor during this transition period.
UConn enters the academic year well positioned to build on our recent successes. Our challenges are real, but I must say that they would be the envy of most other institutions. Our prospects are brighter than ever, and I look forward to working with all members of the community as we move forward.
---