Partnerships can enrich the University but must be planned in accordance with institutional priorities.
Just as the blending of metals can lead to alloys of exquisite properties and strengths, unparalleled opportunities are often possible for the University through partnerships. UConn is involved in a wide variety of partnerships with units of the federal or state government, industrial firms or non-profit corporations, and other universities that enhance research and graduate education.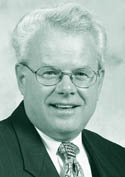 Robert V. Smith
Effective partnerships require good communications, mutual respect, and the development of joint visions, goals and objectives.
Like other facets of academic planning and development, partnerships should emerge from university strengths and priorities. Similarly, the non- university partner should bring special capacities and leveraging opportunities to the partnership.
Identifying potential non-university partners may begin with interaction between a single investigator and an extramural agency, but partnerships in general should have a broader impact than sole investigators' programs.
Because of the challenges and general scope of partnerships, planning typically requires efforts not only at the departmental level but also at the college or school level, and frequently beyond. Indeed, since partnerships involve firms or agencies with very different policies and practices than those found within a university, it behooves partnership architects to find ways to reconcile the extramural policies and practices with those at UConn.
Assisting partnership development
There are a number of intramural and extramural offices and agencies to assist partnership development at UConn, including the Office of the Vice Provost for Research and Graduate Education, with the newly organized Office for Sponsored Programs and Office of International Affairs, and the Graduate School.
Key to the University's federally-based efforts is the Washington, D.C.-based government relations firm, Van Scoyoc Associates, engaged by UConn in 1998. Faculty and staff are encouraged to work with department heads, deans and the vice provost's office to determine how their efforts may benefit from University-developed federal initiatives.
At the state level, the vice provost's office coordinates contacts with several agencies that assist partnership development with private firms and agencies. For example, working with the non-profit corporation Connecticut Innovations Inc., we recently re-crafted the Critical Technologies Program, which has provided more than $18 million for research and technology development at UConn during the past four years. A new emphasis on project-based funding is creating opportunities for new partnerships with industry.
The vice provost's office also works collaboratively with the Center for Science and Technology Commercialization, developed at the Health Center in 1997, which is responsible for patenting and licensing of intellectual property across the University. We have worked with staff of the center to improve efficiencies in disclosure evaluations, patenting and licensing, crucial to partnerships in science- and technology-based fields.
Our basic sponsored programs services are vital to UConn's partnerships with extramural agencies. The staff of the office also assist with the work of the University's Conflict of Interest Committee, an area that is particularly important for partnerships with industrial firms.
The Office of International Affairs is playing an important role in the development of international partnerships. The office maintains a portfolio of model memoranda of understanding that are helpful to those contemplating partnerships with international universities and other agencies. The Marine Sciences Department recently engaged the office in developing a partnership with the New Zealand Institute of Water and Atmospheric Research Ltd., a collaboration that includes a multilateral arrangement with two other U.S. institutions - the Smithsonian Environmental Research Center and the Virginia Institute of Marine Science.
Partnerships may also involve special opportunities to augment sponsored research through donations or gifts. In such cases, staff of the UConn Foundation should be engaged.
Facing the challenges
The benefits of research and graduate education partnerships do not materialize without considerable effort. Working with non-academic institutions, agencies, and private firms means reconciling different cultures, policies, and worldviews. Working with the federal government requires compliance with dozens of statutes and codes, from regulations on cost accounting to animal welfare, radiation safety and protections for human subjects in research, to name a few.
Partnerships also involve memoranda of understanding and contractual arrangements that require definition of items such as budgetary arrangements, deliverables, intellectual property and publication rights, and facilities use. All of these require careful negotiation. For example, industrial firms often request intellectual property ownership rights that are inconsistent with University policy and state statutes. As a state institution, the University must insist on ownership of patentable intellectual property developed by its employees. Faculty also have a statutory right to a share of University royalties.
Central to the negotiations and the resulting agreements is the understanding that partnerships occur among institutions or agencies, not individuals. A "handshake" or personal interaction is insufficient to form a partnership. Instead, a University office authorized to form such a relationship must be invoked.
Exemplary partnerships
Connecticut Repertory Theatre The CRT is a professional theater that is an alliance between the Department of Dramatic Arts and professional theater artists.


Doctoral Scholars Program in Science, Mathematics, and Engineering UConn is part of a consortium of New England universities that seeks to improve the numbers of underrepresented ethnic minorities pursuing and receiving doctoral degrees in math, science and engineering, and to improve the experience for all graduate students.


National Research Center on the Gifted and Talented The NRC/GT, which has significant funding from the U.S. Department of Education, is a major component of the Neag Center for Gifted Education and Talent Development in the School of Education. It represents a consortium of universities dedicated to educational research that is driven by theory, seeks solutions to problems, and is relevant and consumer-oriented.


Sea Grant Program The Connecticut Sea Grant College Program assists maritime research collaborations among universities in Connecticut and throughout New England. The program includes a tripartite international collaboration with Queens University, Belfast, the National University of Ireland, Galway, and Sea Grant programs throughout the United States.


S-Poly Consortium A multilateral consortium, including several industry partners, was recently formed to develop and commercialize "S-Poly" technology (polymer coated materials with unique electrical, molding, and corrosion-resistant properties) developed by researchers at the Institute for Materials Science. The companies involved will provide the University with significant research funding, while pursuing related product development. They will have the right to use the technology internally to coat their products and, if they sell coating or other related materials to third parties, will pay royalties to UConn.


UConn-African National Congress Partnership to Preserve History and Advance Human Rights The African National Congress and UConn have agreed to a memorandum of understanding that supports collaborativ e efforts to preserve and make accessible ANC archives, to create oral histories, and to encourage comparative human rights inquiry. This partnership includes potential collaborations with the University of Fort Hare, Alice, South Africa, a traditionally black South African University, and Michigan State University.


UConn-U.S. Naval Surface Warfare Unit (Carderock Division) Partnership A memorandum of understanding is being developed with the U.S. Naval Surface Warfare Center, Carderock Division, which has responsibility for all U.S. Navy research and development, testing, evaluation, in-service engineering and fleet support, that lays the groundwork for a blanket contract to include mutually beneficial research goals, and designation of UConn as the Northeast Regional Technology Center affiliate of the Carderock Division.


UConn-Pfizer Center of Excellence in Vaccine Research The Center, part of a partnership between UConn and Pfizer Inc. of Groton, will involve basic and applied research on vaccines for livestock, including cattle, pigs, goats, and sheep.


---