In the Spring 1998 issue of Traditions, UConn's alumni magazine, we asked alumni for their remembrances of 1968, the year, as William Manchester wrote, "everything went wrong." What follows are the memories of those who replied to that request, woven with some of the major events in the world and on campus during that turbulent year.
As the 1968 spring semester began, Americans learned the U.S.S. Pueblo, with a crew of 83, had been seized by North Korea. Students returning to Storrs learned that Dennis Hampton, editor-in-chief of the Connecticut Daily Campus, had arrived safely in Saigon. Hampton, on special assignment, was in the capitol city of South Vietnam just three days before the celebration of Tet, the lunar New Year observance. U.S. troops expected a quiet day - instead they faced the beginning of a North Vietnamese offensive that cost lives and drastically altered views of the war on the home front.
For Thomas Evans, Storrs was a safe-haven from the war. He had spent 1967 in a Marine Corps infantry platoon in Vietnam, his time "spent in a bunker on a hill called Con Thien along the DMZ, being bombarded by enemy artillery, rockets, and mortars." Evans says "the transition from firefights to shaving cream fights" took only a few short months, and he recalls an incident early in the semester as he and four new friends talked one evening.
"Our freshman dormitory complex, nicknamed the Jungle, was shaped like a giant U with my dorm on one wing. Somebody set off a string of firecrackers in the quadrangle outside. Because of the shape of the complex, each firecracker explosion echoed off the other buildings. It sounded just like an automatic weapon to me, like the rapid fire of bullets smacking into a rice paddy dike in Vietnam, so I dove to the floor. The other four freshmen stared at me, wondering what my problem was."
The shocks continue
With the Tet offensive, sentiment against the war rose at home and the presidential fortunes of Lyndon B. Johnson fell. He shocked the nation on March 31 when, after announcing a bombing halt in Vietnam and proposing peace talks in Paris, he told his fellow Americans that he would not seek his party's nomination for a second term. It was one of many shocks to come - that week. .
Tim Jerman, Class of 1970, recalls an event that came just days after the Johnson address.
"My most vivid memory came in April when Martin Luther King was shot; I can distinctly remember wandering out of my dorm in a daze, wondering what was happening to the country."
That daze was felt by many, but soon it took a turn. In an awful paradox, a unprecedented wave of civil unrest and violence swept the nation in reaction to King's murder, even though the slain civil rights leader was an outspoken pacifist. Rioting struck 125 cities, including Hartford and New Haven. The nation's Capitol was ringed with barbed wire and combat troops.
On April 25, Becky Vail was named "Miss UConn" - but the sense of the traditional was short-lived. The next day, 350 students marched into administrative offices in Gulley Hall to protest the war in Vietnam and racism in America. They called for a student strike and, among other things, for the Board of Trustees and UCONN President Homer Babbidge to issue statements in opposition to the war, give financial support to Hartford inner-city schools, and create an "urban semester."
Related Story
A recent issue of the Advance included a story about the 30th anniversary of UConn's Urban Semester:

In May, Bruce Miner '67, recalls that he came to campus to take care of some unfinished business. He had completed degree requirements in August 1967 and was supposed to attend commencement on May 23, the date for his induction into the armed services. He came to Storrs to provide proof of the scheduling conflict in order to receive his degree.
"There was a table set up by the 'Students for RFK.' Behind that table, getting signatures for campaign volunteers, was the prettiest girl I had ever seen at UConn. She was wearing a white straw hat with an RFK campaign sticker on the front. She had a celestial look about her, light brown hair, beautiful eyes. She seemed very sincere.
"A few weeks later, as our platoon was forming up under the red sky of morning, our platoon sergeant, a veteran of two combat tours in Vietnam, told us 'I'm a sad man today - they killed Robert Kennedy.' He was crying as he spoke his words. We were numb as he marched us away to the barracks. I was reminded how my parents cried when JFK was killed, and thought about how they were feeling on this day. I thought of the girl at UConn. How far away she seemed."
Minor sums up that year the way many that lived through it might: "For me, 1968 was a year of missed opportunities and a deep sense of personal loss."
Campus protests roll on
In the fall of 1968, an urban semester was started to get UConn students into the inner city of Hartford and New Haven to work with social service agencies. Classes for medical and dental students began that fall at UConn-McCook Hospital in Hartford, a city-owned facility managed by the University. The University began an experiment with shuttle buses: four buses ran for one hour each morning and afternoon "to relieve the problems of walking for many in the campus community."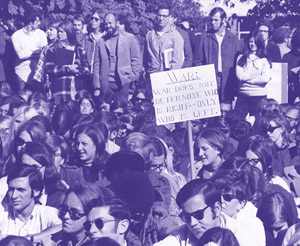 Thousands of students, faculty and staff protest the Vietnam war throughout 1968, day and night.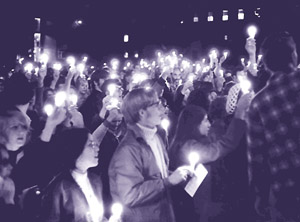 Comedian Godfrey Cambridge and trumpeter Hugh Masekela headlined the Homecoming Concert that October. That month, a visit to campus was also scheduled for Dow Chemical representatives to interview for prospective employees. But Dow was the manufacturer of napalm, an incendiary used by the military in Vietnam. One hundred-thirty students and 10 faculty showed up to protest Dow's presence on campus, preventing the company's representative from meeting with any UConn students.
In November, President Babbidge canceled student interviews for another military supplier, Grumman Aircraft, which later held interviews off campus. Students again occupied Gulley Hall (this time for 24 hours) calling on the University to grant amnesty to those who took part in the Dow protest.
State troopers in riot gear faced students protesting interviews held by Olin Mathieson, another military contractor, on November 26. This time there was some violence, and the Daily Campus carried a photo of at least one student bloodied during a clash with police.
It isn't the violence, though, that one alumna recalls of the many protests. "Hopefully my memory is correct on the year," says Dana Morvak (Abrams) '72. "I recall standing outside Gulley Hall, at night, in the winter, and the students were very cold. President Babbidge ordered that the students be served hot chocolate to keep us warm. It struck me that here we were, striking the University, and we were being catered to," Morvak says.
The countless anti-war protests across the nation that year are also remembered by Col. John A. Anderson, '54, who was at the mid-point of his career in the U.S. Army. Now retired, Anderson was assigned to an Army research unit at the Pentagon. Anderson and his wife hosted his sister-in-law and several college friends who had come to Washington for an anti-war demonstration. The debating began as soon as Anderson picked up the group of protestors at Union Station.
"While en route to our house, I gave them a trip around the Pentagon and a tour of its parking lots. They were not impressed with this pro-war demon chauffeur," says Anderson. "Later that evening amid the beer and, perhaps, some mary jane, Cathy and her friends and I had some interesting discussions — no minds were changed, but the discussions were interesting and lively. The group was particularly impressed with my comment that, like Voltaire, 'I may not agree with what you say, but I will defend with my life your right to say it.'"
Nixon elected, moon within reach
Richard Nixon was elected president that November in one of the closest elections in U.S. history. Vice President Hubert Humphrey, the Democratic candidate, could not overcome his association with the Johnson administration's discredited war policies, nor the violence between protesters and police that swept through Chicago during the Democratic National Convention in August.
On December 22, the surviving 82 members of the Pueblo crew were released by North Korea and headed home. And as America and the world headed toward 1969, the crew of Apollo 8 circled the moon, sending greetings and a look back at what appeared to be a peaceful, good earth. That achievement in space, and especially one to come the following July, is in the memory of Normand Beauregard '51, who was a contracting officer for NASA.
"During the last quarter of 1968 the ongoing work on Apollo lunar suits and backpacks was reaching a critical phase at the Manned Spacecraft Center in Houston for a July 1969 lunar landing. A high level of intensive procurement and contract management activity was necessary," says Beauregard. "I couldn't have been more challenged or motivated. The rest is history. I feel gratified for making a small contribution to the program.
"Your subject question made me reflect, at age 70, on that intense period of history."
Mark J. Roy
---