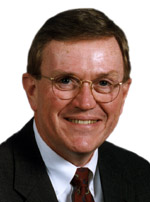 Philip E. Austin
Shortly after I arrived at the University of Connecticut I mentioned that, though I was new to the state, I felt at home here because I had spent so much of my life at land grant universities. That characterization of this institution took a few people by surprise. Here in the Northeast, the "land grant" designation, though accurate in a legal and technical sense, sometimes sounds a bit alien, perhaps more appropriate to the midwest or the west. Even at UConn, which proudly traces its roots to the Storrs Agricultural School founded in 1881 and continues to maintain a vitally important College of Agriculture and Natural Resources, the term at first glance seems a historical artifact.
I am eager to change that perception, because I think the land-grant concept is as relevant to the needs of a 21st century, technology-based society as it was to those of an agricultural society in the late 1800s. It was just over 100 years ago that this school (by then called Storrs Agricultural College) became Connecticut's land-grant college. Even then Connecticut was in the midst of major economic transformation. Through the past 100 years, as the state's economic base shifted to heavy industry and then to technology, social and demographic change accompanied economic transition. One of the few constants has been this institution's continuing contribution, as it metamorphosed from Storrs Agricultural College (1893), to Connecticut Agricultural College (1899), to Connecticut State College (1933), to the University of Connecticut (1939). Our programmatic focus is infinitely broader now. But the fundamental mission of teaching, research, and service to the people of the state, embodied in our role as a public university in the land grant tradition, has stayed constant throughout.
The Advance's readers know a great deal about our teaching and research programs. In today's column I want to focus on our service mission, and as we enter a new school year I can think of no better example than the array of programs we are implementing in cooperation with the Hartford education and child service community. As Connecticut's public research university we have a natural bond with the state's capital city. Physical proximity strengthens the linkage. The Health Center and the Storrs campus are both within easy drives of Hartford, a regional campus is near the city's border, and the Law School is located in Hartford itself.
But our ties to the capital city go beyond geography. On a more basic level, they boil down to two key realities: First, Hartford is a city of great potential that faces economic, social, and educational challenges. Secondly, the University of Connecticut is an institution filled with teachers, researchers, students and staff eager to put their talents and energy to work for the state's people. The opportunities for joint effort are as obvious as they are compelling. They allow us to put the land grant philosophy into practice, and they give us an opportunity to strengthen important political relationships. It is therefore not surprising that during the past several years we have built a network of collaborations that could, by now, serve as a model for land grant universities everywhere.
A few examples demonstrate the scope of our efforts.
Over the last seven years, more than 700 students in the School of Education's bachelor's/master's teacher preparation program have worked in literacy and technology programs in five Hartford schools.


Twenty UConn students preparing for careers in special education are working with 20 Hartford teachers to develop a resource of practical teaching tactics.


School of Education faculty and graduate students are implementing Hartford-based administrator training programs, analyzing Hartford programs for the gifted and talented, providing support to school psychology programs, and helping students make the transition from school to work.


Other University faculty and graduate students are working on AIDS prevention in Hartford's high schools, violence prevention in middle schools, dropout reduction across the grades, and nutrition education in the community.


UConn medical and dental students are working with high school pupils in science and health education programs and the UConn Health Center provides medical and dental care in school-based clinics.


Students at the School of Law teach Hartford High students about basic legal issues through the law school's Street Law Program.


The School of Business Administration supports an Academy of Finance for Hartford students preparing for careers in business and financial services.


In combination, these efforts represent the University's capacity to make a difference. They demonstrate the University's interest in supporting our colleagues in Hartford rather than dictating to them. We would not have offered and Hartford would not have agreed to a relationship built on any basis other than mutual respect.
I believe that the UConn/Hartford partnership is important not only on its own terms, but as a demonstration of a critical concept. The concept of the public, land grant university committed to the state's service is not only an intrinsic part of the University of Connecticut's heritage. It is a living, working reality that has an impact in communities at all points along the economic spectrum. We exist not only to educate the students who enter our campus, but to meet the needs of every resident of our state. As we enter the 1998-99 academic year, that mission is as compelling as it ever has been.
---