What was it like 100 years ago at the University of Connecticut? What were the requirements for admission, how many students attended, and how long was the school year? Were women admitted to the university? What was the tuition? These questions and more are answered in the school's catalog from 1898-99 and other sources.
In 1898, the University of Connecticut was called the Storrs Agricultural College and was only in its 17th year of operation. It started out as the Storrs Agricultural School, but was renamed on April 21, 1893. The name was changed again on June 14, 1899, to the Connecticut Agricultural College, and it was known by this name until it became Connecticut State College on February 25, 1933 and, finally, the University of Connecticut on May 2, 1939.
The nearest railroad station to the college was Eagleville, on the Central Vermont road, which connected at Willimantic with the New England division of the Consolidated Road. A long-distance telephone at the college rendered it easy to communicate by telephone or telegraph.
Applicants had to be citizens of Connecticut, and at least 15 years old. They had to pass a satisfactory examination in reading, writing, spelling, English grammar, arithmetic, geography and U.S. history. At the discretion of the faculty, however, certificates from accredited high schools could be accepted in place of the examinations. The work of the high school had to be equivalent to that done by the lower college classes. Candidates were required to present satisfactory testimonials about their good character and previous scholarship from a former teacher, pastor or neighbor qualified to recommend them.
One hundred years ago tuition and room rent were free to all students. The rooms were provided with bed, mattress, study table and chairs. Bedding, toilet and table linen, lamps, carpets and rugs, and other items desired for comfort had to be furnished by the students. Board, fuel, lights, books and stationery were furnished at cost. A student's expenses were $125 a year and up (a factory worker's yearly wage was approximately $492 a year in 1897), roughly equivalent to $2,500 in 1996 dollars.
With economy and paid work (at 8 to 12 cents an hour), however, annual expenditures could be kept to a minimum. Students of both sexes were employed, and paid for their work by the college. Student employment was under the control of the heads of departments. "Industrious and faithful young men and women [could] do much toward helping themselves financially, as well as to become skilled in things pertaining to farm and house-hold labor," said the Storrs Agricultural College Catalog of 1898-99.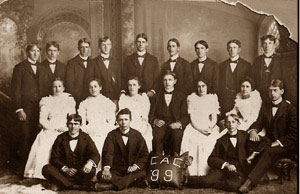 In 1899, Storrs Agricultural College was renamed Connecticut Agricultural College. The college offered undergraduate education only until the 1920s,when the first master's degrees were awarded, and men still significantly outnumbered women.
Photo by Peter Morenus
Students were required to attend prayers at the College Chapel daily, except Saturday and Sunday, and services at church on Sunday morning. The Second Congregational Church at Storrs set apart one-fourth of its seating capacity for the exclusive use of college students. Parents or guardians could designate the church they wished their student to attend.
One hundred years ago "ungentlemanly conduct, unexcused absence from any college exercise, interfering with college property, etc., [were] treated as misdemeanors, and punished according to the offense," according to the 1898-99 catalog. "Each member of the faculty [was] empowered to exact obedience and good conduct in class and on the college premises." To pass from one study to another, or from one class to the next, students had to reach an average of 60, 65, 70 and 75 percent, according to grade, in their daily work and examinations.
In 1898 there were three terms per year: fall (September 18 to December 21, 1898), winter (January 2 to March 24, 1899) and spring (April 3 to June 14, 1899). There was a preparatory year, and freshmen, sophomore, junior and senior years of study. The two-semester year was introduced in 1914. In the 1990s, each semester consists of approximately 16 weeks and there are four years of study.
Among the required courses of instruction for students in 1898 was physical training in the gymnasium for the "young ladies" and military drill for the "young men." Military drill was obligatory, and each male student had to procure for himself a blue military suit at a cost of about $15 for coat, pantaloons and cap.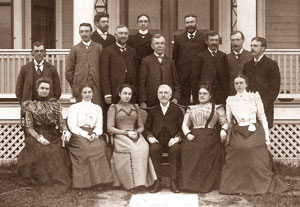 Faculty members at the turn of the 19th to 20th century included the instituion's first president, Benjamin Franklin Koons, center, second row, and Charles Lewis Beach, left, second row, who was president from 1908-1928. Seated center, front row, is George Washington Flint, who took over from Koons as president in 1898.
In 1898, the second president of the college, George Washington Flint, began his tenure; the Storrs Agricultural College Lookout was the monthly student newspaper, the precursor to today's daily student newspaper, The Daily Campus; and the school's library contained only a few thousand volumes. Although figures are not available for that year, in 1895 there were 3,943 volumes in the library and in 1900 there were 8,127. In 1996, UConn's library had 2,012,767 volumes.
In 1898 the total enrollment, which consisted of undergraduates only, was 132 students. The numbers of men and women are not available for that year, but in 1895 there were 119 men and 19 women, and in 1900 there were 77 men and 33 women. By contrast, in 1997 there were a total of 11,318 undergraduates at the Storrs campus, 5,537 men and 5,781 women.
For the first 10 years the college was in operation, a certificate was awarded rather than a degree. In 1898, there were 14 certificates awarded. One hundred years later, UConn awarded 2,275 bachelor's degrees, 1,366 master's degrees, 254 Ph.D.s, 197 Juris Doctor degrees, 45 D.M.D.s and 82 M.D.s in 1997 (for a total of 4,219 degrees conferred).
Barbara Nangle is on the staff of the Office of Institutional Research.
Sources: Catalog of the Officers and Students of the Storrs Agricultural College Catalog 1898-99; "Facts About UConn Since 1881;" "The University of Connecticut Fact Book" 1996-97 and 1997-98; and "Consumer Price Index (CPI) Conversion Factors to Convert to 1996 Dollars."
---