This month we welcome approximately 3,200 new freshmen to Storrs and the regional campuses. The numbers are up by about 400 over last year, a 14 percent rise. Not only is our freshman class larger than that of recent years; it is more culturally diverse and academically stronger - continuing a progression that began several years ago. Those figures reflect a clear response to the University's progress on multiple fronts, and they give us real cause for celebration.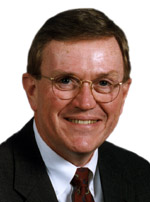 President Philip E Austin

Photo by Peter Morenus
They should also give us cause for some serious thought about the importance of undergraduate education in a public research university. This has, of course, long been an issue of national attention. At least since Clark Kerr coined the term "megaversity" in the early 1960s, thoughtful observers have been concerned that the great universities may be falling short in their central educational mission - identifying their thousands of undergraduates by number and not name, cramming them into large lecture halls where they see professors only from a distance, developing curricula on the basis of budgetary constraints rather than quality considerations. The anonymity of student life at major universities certainly played a role in the early student uprisings of the 1960s, although there were also other important factors at play.
It is one of the University of Connecticut's great (and in some ways unique) strengths that we never lost sight of our fundamental mission as an educator of young people. Even as we expanded our research capacity and expanded our service activities, we maintained ourselves at a size that would allow us to respond to undergraduate students aspirations and needs. While we have not met that standard with universal success (nor has any other major university), it remains of central importance to us.
We enter the 1998-99 academic year with several key programs designed to move us toward our goal. Each has a specific focus - freshman acculturation, support for honors students, help for faculty in implementing new methodologies, enhanced use of technology, more in-depth counseling, closer integration of academic programs and residence life - but they share a common objective of making the University a national model of an undergraduate learning environment. We are particularly eager to involve undergraduates in research, and will give special emphasis to activities in that area.
But these are not things that can - or should - be imposed by an administration. They require active support from both students and faculty.
On August 29, welcoming new freshmen and transfer students at Convocation, I gave students four suggestions about how they could make the most of their undergraduate experience. First and foremost, I urged them to get to know their professors - not just in the classroom, but in their offices as well. Second, I suggested that they avail themselves fully of all of our advisory services - not just for help with program choices each semester, but for guidance in determining life and career goals and in linking those goals to the universe of academic options. Third, I called on each student to participate to the fullest in the life of the University community, in all its dimensions - cultural, artistic, political, recreational. Fourth, I implored them to spend a significant portion of their time on unfocused intellectual pursuits - to browse in the library, to surf the net, to engage in bull sessions in the dorms. That may not help them get better grades, but it will help them challenge their preconceptions and formulate new ideas - activities that are of the essence of a college education.
If students do their part, we - faculty, staff and administrators - must also be prepared to do ours. John Sloan Dickey, who served as president of Dartmouth in the 1950s, once said, "There is no more vulnerable human combination than an undergraduate." Our students in the 1990s may appear different: not only are they more diverse than the privileged, all-male, almost exclusively white student body at Dartmouth in the 1950s but at first glance they may not seem very vulnerable, for people who came of age in the 1990s have been subjected, for better or worse, to a set of influences that may make them grow up before their time. Yet if we look below the surface, we see young people with needs every bit as great as those of undergraduates at any time or place.
Here at the University of Connecticut, we need to be fully aware of that, and for the most part we are. We respond to our students' needs not by making life "easy" - low standards help no one - but by working as hard as we can to make this an institution where the concept of access has operational meaning on a daily basis. This is and must continue to be a place where faculty are accessible to students, where the tools of learning are readily at hand, where help is available whenever it is needed.
Of our many priorities, none is more important than educating the students who have chosen to attend this university. Perhaps our greatest challenge in the next century will be to continue to demonstrate that a top quality public university can fulfill that function even as it excels in the research and service missions that are also intrinsic to our identity. We must continue to work hard to meet that challenge.
This is the first in a series of monthly columns by the president. The chancellor's column will appear on September 14.
---