Legacy of first dean of graduate school
commemorated in naming of center
February 16, 1998
When Connecticut State College became the University of Connecticut in 1939, a reorganization occurred which led to the creation of a number of schools and colleges, including the graduate school.
Graduate education was not entirely new - the first master's degree was awarded in 1920 to Domingo B. Paguirigan, an Asian student from the Philippines, and during the next two decades, 60 more master's degrees were awarded by the college.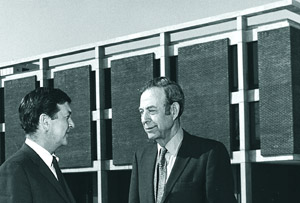 Nathan L. Whetten (right) talks with President Homer D. Babbidge Jr. outside the Graduate Center that bears Whetten's name, in this photo from the early 1970.
Photo courtesy University Archives
Nathan Lasalle Whetten, a professor of rural sociology, was appointed as the first dean of the graduate school in 1940, replacing George C. White, who had temporarily taken over following the death of Professor I.G. Davis. White became dean of the College of Agriculture.
Whetten joined the faculty in 1932 as an assistant professor, coming to Storrs from Harvard, where he earned his doctoral degree and had been a social science research fellow. Previously he was an instructor at the University of Minnesota and at Brigham Young University. He earned his bachelor's and master's degrees at Brigham Young.
Born in 1900, Whetten became an internationally acclaimed Latin American scholar, publishing Rural Mexico, considered a classic in its field, in 1948. It was published in Spanish in 1953. A similar study of Guatemala was published in 1960. In the 1930s he also studied and published bulletins on suburbanization in Connecticut and the use of recreational lands in the state.
From 1942 to 1945, during World War II, Whetten was on leave to serve as a rural sociologist at the American Embassy in Mexico, also doing research in Central America in 1946.
Whetten, who died in 1984, was born in Chihuahua, Mexico, where his parents, moving from Arizona, operated a cattle ranch. The family moved back to the United States in 1912 during the Mexican revolution, returning to Mexico in 1914, where Whetten attended high school in Juarez.
When he began his duties as dean in the fall of 1940, Whetten oversaw offerings of postgraduate education in 18 departments, with courses taught by 38 members of the faculty. Graduate work was offered in education, engineering, agricultural economics and farm management, agronomy, animal diseases, bacteriology, botany, chemistry, dairy industry, economics, English, foreign languages, forestry and wildlife, history, physics, pyschology, sociology and zoology. A total of 128 courses were listed in the catalog that year.
In the earliest years of the graduate school, Whetten was familiar with all the students undertaking graduate study. In delivering the 1970 graduate commencement address, he noted that at his first commencement "as graduate dean, in 1941, I handed out master's diplomas, mostly in agriculture. Mrs. Whetten and I invited the graduates to our home for dinner - all nine of them - with husbands or wives where appropriate. Our former president and Mrs. Jorgensen were there too.
"After the guests left we decided this had been a fine thing to do and we should make it a tradition. But we did not visualize entertaining such a group as you!" he told the graduates in 1970. "There are 1,075 of you getting graduate degrees this afternoon. More, I am sorry to say, than our dining room can hold."
It is not known how long the dinner tradition lasted, but in 1956, while taking stock of the growth of the graduate program, Whetten noted there were 242 master's degrees awarded in 1955, as well as 32 doctoral degrees - certainly more than could fit in the Whetten dining room.
An area of growth of which Whetten was particularly proud was in the attraction of international students.
The first three recipients of doctoral degrees from UConn, in 1949, included a student from China. Pictured are Samuel Steingiser, Rowland Mayor, and Tso-Kan Chan.
Photo courtesy University Archiv.
"Our graduate programs have attracted students from all over the world," he said in 1970. "It is significant that the first graduate degree awarded went to a foreign student, a Filipino. And that one of the first three doctoral degrees went to a student from China."
The first three doctoral degrees were awarded in 1949 to Tso-Kan Chang in genetics and Rowland H. Mayor and Samuel Steingiser, both in chemistry.
When Whetten retired in June 1970, the graduate center - the first permanent headquarters for the school - had been open for four months. The trustees voted in November 1971 to name the center for Whetten, the first time a building was named for a living person.
"We moved from building to building," said Whetten of the early years. "From a small office in Beach Hall to the new Home Economics Building (now the DRM building).
"There were three other headquarters before we arrived in the graduate center, where there is now room not only for a graduate dean but for several of them," he said.
The center, the home of graduate education and research, has been known for the past 20 years as the Nathan L. Whetten Graduate Center.
Mark J. Roy
Sources: Nathan Whetten files, courtesy Tom Peters, Graduate Education and Research; photos and additional information, University Archives, Dodd Research Center.
---