The lawyers are coming! The lawyers are coming!" Hartford High School students scream when they see UConn law student Maggie Gold walk into their classroom.
Gold and another student, Hancho Kwak, teach law to 16 students in Hartford twice a week, as part of a course called street law.
"We teach them about their rights, equality, and search and seizure, among other things," she says. "They are so excited. It's very rewarding to see them interested in learning."
Gold came to UConn as an Ellen Ash Peters Scholar, an award given to first-year law school students who graduated from Swarthmore College. It is named for the Hon. Ellen Ash Peters, former chief justice of the Connecticut Supreme Court, and was established by Phillip Blumberg, Peters' spouse and dean emeritus of the law school.
Gold turned down offers for admission into several top law schools, including the University of Virginia and Boston University. Her decision was easy, she said, after she visited UConn.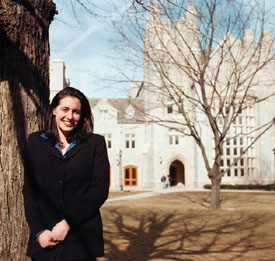 Law student Maggie Gold, who will graduate in May, chose UConn over the University of Virginia and Boston University. Photo by Peter Morenus
"If you could capture this school in one word, it would be humanistic. When I visited here all the students were smiling and happy to talk about their experiences. That's unique. You talk to most students at other schools, and they hate where they are," Gold says. "Law school is hard enough."
Other rare features that attracted Gold to UConn were the lack of competition among students and small class sizes. In the second and third years, clinics and classes comprise about 10 students each.
Gold became active her first year here, joining the Student Bar Association as first-year representative. She spent her first summer working for Federal District Judge Robert J. Ward of the Southern District of New York. She says she owed part of her success that summer to a research and writing course she took in her first year at UConn.
The course, known as lawyering process, is a year-long program created in 1994 to introduce students to the fundamental skills and values needed to practice law. The first semester is spent researching and writing legal drafts. During the second semester, students learn interviewing, negotiating, contract drafting and other practical skills. Oral arguments are videotaped and critiqued in the class, which is kept small and features more than one faculty member, to retain one-on-one feedback.
Gold, who grew up in Manhattan, says she has always wanted to be a lawyer.
"I've wanted to be a lawyer ever since I was a little girl. Both my parents are doctors, but both my grandparents on my father's side, and all my uncles and cousins are lawyers," she says. "I've always wanted to help people. I see being a lawyer as being a counselor - in essence helping people. People bare their souls and their problems to you and they trust you."
Her commitment to community outreach increased during her second year, when she became treasurer of the Jewish Law Students Association and president of the Public Interest Law Group, a group that works in the community with homeless or impoverished people.
In addition to her other activities, Gold has worked in the dean's office as a student administrative assistant for three years. She also has worked as an intern in Sen. Joseph I. Lieberman's Hartford office, as a research assistant for Professor Deborah Calloway and as a law clerk to plaintiff's employment lawyer Jamie Mills of Hartford. Last summer, Gold worked as a summer associate in the Boston office of Day, Berry & Howard of Hartford.
"It has been great fun to have Maggie as a student at the law school," said Laurie Werling, associate dean for administration. "She has taken advantage of all the educational and scholarly opportunities as well as the community activities available to our students."
Gold now has a judicial internship with Federal Judge Magistrate Thomas Smith, drafting opinions and sitting in on court hearings.
When she graduates this May, she will work for the large Boston firm Brown, Rudnick, Freed & Gesmer. She received information about this and all but one of her jobs through the school's Office of Career Services. She isn't sure what type of law she wants to practice, but is interested in public interest law and employment discrimination law. She is also tempted to go into politics.
She says her prospective employers were fascinated by her experiences at UConn, which include a five-month stint studying law in Leiden, the Netherlands. She learned about European community law and private international law, helping her approach legal issues here from a new angle, she says.
"Nothing can reward you like practical experience," she says. "My time in the Netherlands was an unparalleled, phenomenal experience. Lots of law schools have these international programs but actively discourage them, and some don't have them at all. At UConn, they have all these great programs and are very encouraging. Every employer I went to was fascinated by my experience abroad and wanted to know all about it."
Gold's career might never have gotten off the ground if it weren't for Werling. "I came to her in tears during the second week of my first semester, with the deadline for dropping courses approaching. I told her that maybe this law school thing was just not for me. I was feeling overwhelmed, as do most first-year students," she says.
"Dean Werling told me she would record it and keep it on her desk, but that I should keep on trying to see how far I could go," Gold says. "I obviously made it. She took a vested interest in me and gave me the confidence and the support I needed to succeed. I know I am only one student that she and others at the law school have guided."
Renu Aldrich
---