Patti Fazio has been named manager of marketing services in the University Communications department.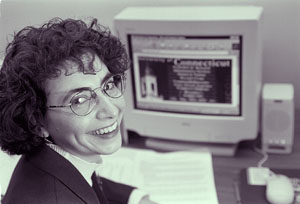 Patti Fazio, a UConn alumna, will lead the University's strategic marketing activities. Photo by Peter Morenus
Before accepting the position at UConn, Fazio spent four years as a senior specialist in the communications/marketing department of Executive Risk, a specialty insurance company in Simsbury. She worked at the accounting firm Ernst and Young in Hartford from 1992 to 1994.
Fazio graduated magna cum laude with a bachelor's degree in French and English from UConn in 1990 and was elected to Phi Beta Kappa. She earned her master's degree in English from UConn in 1992.
"Patti Fazio helped steer a strategic communications program at Executive Risk when that company was experiencing a tremendous expansion. As we undertake a variety of new communication activities and programs and adopt a strategic marketing orientation, we are certain that Patti's previous experience will prove to be extraordinarily helpful to us," says John Barry, associate director of University Communication.
Fazio says, "It's wonderful to be back on the Storrs campus again. It's such an exciting time for the University - I'm happy to be part of it."
Fazio's husband, Michael Sullivan, also a UConn alum, graduated in 1990 from the School of Engineering.
Sherry Fisher.
---