Former president George Bush will receive an honorary doctor of laws degree and speak during the undergraduate Commencement ceremonies at UConn May 1.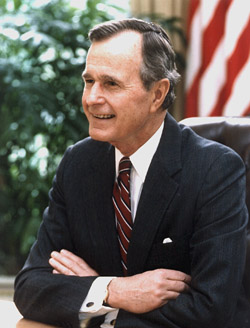 Official White House Photo

"I am delighted that President Bush will share his wisdom with our students," says Roger A. Gelfenbien, chairman of the Board of Trustees and a managing partner of Andersen Consulting.

"President Bush has strong connections to Connecticut, a man who continued his father's years of public service as Connecticut's own Sen. Prescott Bush, and leaves his own important legacy to our country as president. He is a fine example to our students of how much one dedicated, tireless individual can accomplish when he uses teamwork, intelligence, and strategy to further his nation's goals," says Gelfenbien.

Bush, 73, was the first sitting vice president to ascend to the Presidency since 1837. He was elected the 41st President of the United States on Nov. 8, 1988. He served until 1993.

"It is indeed an honor for me to receive this degree from the University of Connecticut. As it is the state where I was raised and spent my own college years, Connecticut will always occupy a special place in my heart. I am very much looking forward to addressing the students and faculty at UConn's Commencement," says President Bush.

Bush is known for signing into law the Americans with Disabilities Act and the Clean Air Act, and for landmark civil rights and environmental legislation. He also fought for and negotiated the North American Free Trade Agreement, which later was signed into law.

During his term of office, the Cold War ended, drastically reducing the threat of nuclear war, the Berlin Wall fell and Germany was reunified, the Soviet Union was broken up and replaced by a democratic Russia, and an unprecedented international coalition force liberated Kuwait from Iraq, paving the way for Israel and her Arab neighbors to continue their quest for peace in the Middle East.

"George Bush served the nation during a period of great historical importance," says President Philip E. Austin. "Over the course of a long and distinguished public career he contributed immeasurably to the country's progress at home and abroad, and in the years since he left the White House he has continued to serve as a model of public citizenship. I am delighted that he will be coming to our campus to receive this well-earned degree."

Since leaving office, Bush has visited 54 foreign countries and helped raise millions of dollars for charitable organizations. He is chairman of the Eisenhower Exchange Fellowships and honorary chairman of the Points of Light Foundation.

Bush, born and raised in Connecticut, was graduated from Yale Phi Beta Kappa. He also has served as U.S. Ambassador to the United Nations, chairman of the Republican National Committee, chief of the U.S. Liaison Office in China, and director of Central Intelligence.

He and his wife, Barbara, have been married 53 years and have five children and 14 grandchildren.

UConn bestowed an honorary degree on President Bill Clinton in 1996, and was host to a speech by President Gerald Ford in the 1980s.

Karen Grava Willia.
---