The University has established a new scholarship program to encourage more of the state's high-achieving students to attend college in Connecticut.
Chancellor Mark Emmert said the new program, the Deans Scholarship, provides four-year scholarships worth up to $6,000 each to students who are in the top 15 percent of their high school class and who have a combined SAT score of at least 1200 out of a possible 1600.
"The University is fulfilling its pledge to help stop the flow of talent to out-of-state colleges and universities," Emmert said at a press conference on December 18 at East Hartford High School. "Now we will be more competitive with other institutions which have been offering scholarships."
Emmert said the new scholarship, supported through a reallocation of University funds, is the first in a series of programs designed to increase enrollment, especially among outstanding Connecticut students. It supplements other merit-based scholarships and supports a number of internal changes made to fulfill President Philip E. Austin's inaugural pledge to keep the best and brightest students within the state.
"This program will help Connecticut retain its quality students," Austin said. "That is critically important to the state's long-term economic health."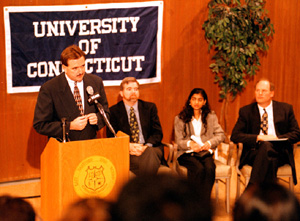 M. Dolan Evanovitch, left, associate provost for enrollment management, speaks during a press conference at East Hartford High School December 18. Seated, left to right, are: Mark Emmert, chancellor; Kirti Patel, a UConn student; and Steven Edwards, principal of East Hartford High Schoo.
Photo by Peter Morenus.
M. Dolan Evanovich, associate provost for enrollment management, said the scholarship program is part of an overall effort to retain quality students.
"Students who are admitted to the University and meet the SAT and class rank requirements will be automatically offered the scholarships," Evanovich said. The Deans Scholarship will enable the University to more than double the number of scholarship offers made to high-achieving high school seniors.
He said there were 450 students who applied to the University last year who would have been eligible for the new scholarship, 145 of whom enrolled but did not receive financial aid.
In a report released on December 17, the state Department of Higher Education outlined a bleak future for the state's public colleges, noting that more than half of Connecticut's college-bound high school graduates traditionally leave the state.
"This announcement is not intended to coincide with the report of the state Department of Higher Education," said Emmert, but "we concur with the report that something does indeed need to be done to stop the migration of Connecticut's best students out of state."
Steven Edwards, principal of East Hartford High School, said Connecticut's top students need scholarships like these, especially since so many other states offer similar programs to keep their high-achieving students in state.
"UConn provides an excellent education and this program will provide a tremendous incentive for students to take advantage of that," said Edwards.
Kirti Patel, a UConn student who graduated first in her class at East Hartford High School in 1994, is an example of a student who took advantage of scholarships and stayed in the state.
"I chose UConn because of the various scholarships that were available to me and its proximity to my home," said Patel.
Patel, a chemistry major who is enrolled in the honors program, received a Presidential Scholarship and a Soars Scholarship.
The press conference was also attended by East Hartford High School students who will graduate this year.
Laurie Cosker, ranked No.1 in her class, said UConn is one of her top five choices and this scholarship is a benefit that might attract her. Cosker, who plans to major in education or medicine, says she will probably choose to come to UConn.
Usha Palaniswamy
---