Historical story of the Storrs brothers


It was in December of 1880 that an offer of 170 acres of land with buildings and $5,000 in cash to start an agricultural school was made public in Connecticut. The offer was announced at the Farmer's Convention of the Connecticut Board of Agriculture, held on December 15-17 in New Britain. A committee of three investigated the offer and reported favorably to the state, and a commission appointed by the General Assembly also urged acceptance of the gift.
These investigations moved quickly, for on April 21, 1881, the General Assembly voted to accept the gift of brothers Charles and Augustus Storrs, and established the Storrs Agricultural College.
Charles and Augustus made their offer just as legislators were being convinced that Connecticut needed a school to train boys in farming. The legislative act of 1881 says the school was established to "educate boys whose parents are citizens of this state, in such branches of scientific knowledge as shall tend to increase their proficiency in the business of agriculture."
The importance of agricultural training was stressed by organizations such as the Agriculture Board and the state Grange (an organization of farmers), and influential individuals, like Theodore Sedgewick Gold.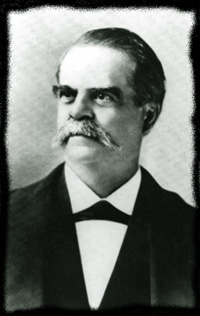 Augustus Storrs
An 1838 graduate of Yale, Gold and his father had started a school of agriculture in their hometown of Cornwall in 1845. In 1864 he published and circulated in Hartford a pamphlet urging the establishment of a home for Connecticut orphans of the Civil War. When such a facility was opened by the state in Mansfield in 1866, he became its secretary, until it closed in 1875. He was later to serve on the first board of trustees of the Storrs Agricultural College.
The orphanage property was sold in 1876 - bought by the owner of the next farm over, Augustus Storrs.
Augustus and his brother Charles were of farm stock themselves, but ended up as successful Victorian-era businessmen. They were sixth-generation descendants of Samuel Storrs of Nottinghamshire, England, who emigrated to Barnstable, Mass., in 1663. In 1698, Samuel Storrs moved to Mansfield, Conn., and established the family farm on which much of UConn's main campus is now located.
The brothers were raised on the family farm and educated locally, but both ended their lives as retired businessmen in Brooklyn, NY. There is more known about Charles than about Augustus. At 18, he became a teacher, and a little later started a career selling Mansfield-manufactured silk to merchants throughout New England. In 1850, at age 28, Charles became a partner in a Brooklyn manufacturing firm, and when it failed in 1854, he opened his own business, joined by his brothers Augustus and Royal O. Storrs. Retired in 1879, Charles was endorsed by the Brooklyn Eagle and the Brooklyn Times as a candidate for mayor of Brooklyn. He also was a close friend of New York Herald editor Horace Greeley.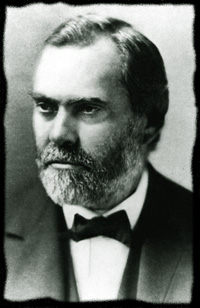 Charles Storrs
Charles died at his home in Brooklyn in 1884.
Augustus' life was parallel to that of Charles but, although he too ended his life in New York, Augustus continued to spend his summers in Mansfield, maintaining and supervising the family farm. He died there in 1892, still a neighbor of the school he helped found.
Along with other family members, Augustus and Charles are buried in the hillside cemetery - the deed for which they had given to the town in 1864 - along North Eagleville Road.
The school that carried their name opened its doors to 12 students on September 28, 1881. On October 7 - still less than a year since the Storrs' offer was announced - a public opening ceremony was held on the new campus, attended by townspeople and representatives of farming interests from throughout the state.
Mark J. Roy
Sources: "Connecticut Agricultural College - A History", Walter Stemmons, 1931; unpublished manuscript, Evan Hill, 1980.
In 1906, Storrs Hall was completed. Also that year:
Electric lights were installed in the library, chapel, and dining hall of Old Main;
A trolley line was planned for Willimantic to Stafford Springs through Storrs - but was never built;
"The Lookout", the newspaper that is now the Daily Campus, had its first woman staffer: Lena M. Hurlburt, Class of '08, class notes editor;
Three researchers with the Storrs Agricultural Experiment Station were the first to describe and classify the bacteria in milk and milk products;
Commuting students - then known as "day students" - were provided with places to study during the day in college buildings; they were charged $2 a term for heating.