Oldest brick building on campus honors founders, has seen many changes

Old Whitney Hall, the former orphan's home that housed the original Storrs Agricultural School - and even served as the dormitory - soon became too small to accommodate the school's expanding student population and curriculum.
To meet the school's growing needs, two buildings were constructed in 1890 - Old Main and Gold Hall. For many years these buildings, along with the Storrs Agricultural Experiment Station building (built in 1888), a chemistry building (built in 1909) and Grove Cottage (a women's dormitory built in 1895), were the central campus. These five wooden structures were located in an area stretching from Swan Lake (then known as the Duck Pond) south toward the current location of Beach Hall.
Old Main, consisting of two stories and a basement, housed offices, a chapel, the library and reading rooms, a math recitation room and a dining hall and steward's room on its first floor. On the second floor was an English literature recitation room, a horticulture room, a room for botany and natural history, a spare recitation room for either math or English, and a museum of natural history. Old Main was torn down in 1929.
To the south was Gold Hall - a men's dormitory named for T.S. Gold of Cornwall, a member of the school's board of trustees and a key player in the drive to establish the agricultural school. Gold Hall, had 30 rooms, equipped with "modern shower and tub baths," and "a dressing room fitted with lockers." It burned down on January 14, 1914.
Two more of the five wooden buildings also burned down: the chemistry building, located approximately where the Waring Chemistry Building now stands, was destroyed by fire on November 27, 1917 and Grove Cottage burned down on July 8, 1919.
The experiment station was the last of these structures to go. It was moved in 1932 to the west side of the Atwater Laboratory (part of what is now Pathobiology), and torn down in 1959 to make way for construction of the Torrey Life Sciences Building.
The first brick structure on campus was Agriculture Hall, also known as the Dairy Building. Constructed in 1899, the three-story building was located on Storrs Road (what is now Route 195, although it wasn't paved nor was it a state road in 1899), facing west. It was torn down in 1960.
The second brick structure on campus was Storrs Hall, opened in 1906. Like its twin, Koons Hall (built in 1912), Storrs Hall was originally a dormitory, the first brick dormitory on the campus. Today it is the oldest brick building on the Storrs campus.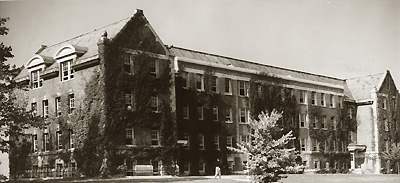 Storrs Hall, pictured here during the 1940s. Once a dormitory, it was home to the School of Business Administration in the 1950s. It now houses the School of Nursing.
Rufus Stimson, president of Connecticut Agricultural College, reported to trustees in 1905 that the building was named "in honor of the founder and first benefactor of our institution.
"Its 66 bedrooms and 30 studies we hope will be ready for use at our fifth annual summer school for teachers and others ... we hope to see every room taken by young men when our next fall term opens .... We hail the new hall as a beautiful and enduring embodiment of the hope of the fathers and mothers. We crave no prouder distinction than to be permitted to lend a hand to more and more of their sons and daughters," he said.
The "founder and first benefactor" to whom Stimson referred was Augustus Storrs, a native of Mansfield. Augustus gave the state a deed for 155 acres of farmland that included the Old Whitney Hall and some farm buildings. He had bought the property - adjacent to the Storrs family farm - from Whitney's widow after the orphanage had closed in the mid-1870s. His brother Charles, a retired businessman, contributed a $5,000 check for the purchase of equipment for the new agricultural school, and a $1,000 check for drainage and reclamation of a wetlands.
With the influx of GIs following World War II, new residence halls - North Campus - replaced Storrs and Koons Halls as dormitories. Both were turned into office and classroom buildings in 1952.
Next week: more on the Storrs brothers.
Mark J. Roy
Sources: Connecticut Agricultural College - A History, Walter Stemmons, 1931; "An History of the Geography of the Storrs Campus", Robert Totz - Geography 299, Spring 1983.
---